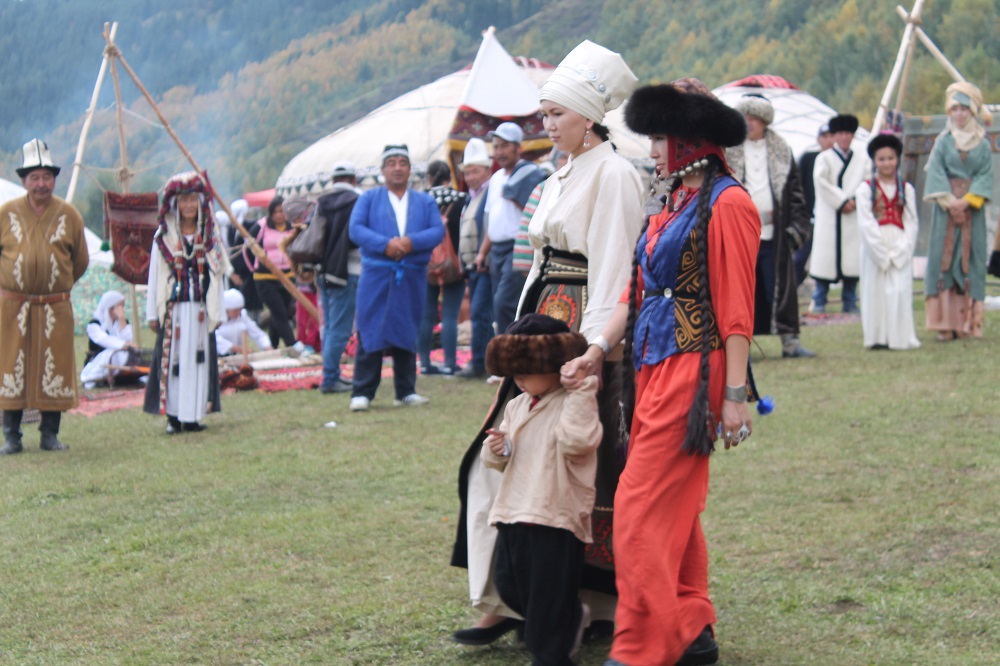 06.09.2016 18:25
The Regions of Kyrgyzstan Finished their Theater Performances at Kyrchyn Gorge
Delegations from all the regions of Kyrgyzstan, plus the cities of Bishkek and Osh, finished presenting theater performances as part of the "Nomad's Universe" folklore festival, which is part of the World Nomad Games.
Today, September 6th, delegations from Jalal-Abad and Issyk-Kul Regions and Osh city presented.
Representatives from the city of Osh prepared a scene about the Great Silk Road for their performance, which brought the audience to the ancient city of Osh, home of great thinkers and merchants from far-away countries. The audience was also shown a ceremony related to the spring grain sowing and harvest.
The ethnographic collective from Osh also presented folk songs on different instruments, as well as traditional dances.
As part of a different contest, Osh presented a dastorkon, where they laid out dishes from traditional cuisine that are made from meat (besh-barmak, uchuk), and also from dough (boorsok), plus fermeted milk products and others.
Artists from the Jalal-Abad regional theater showed the audience moments from the lives of famous Kyrgyz heroes through the form of poetry, especially from the epic of "Kurmanbek baatyr" as part of their theater performance.
The matchmaking ceremony of "kyz uzatuu" was also on display, the essence of which is to bring the parents and relatives of the groom to the house of the father of the bride.
During their theater performance, artist from the Issyk-Kul regional theater put on a play about the life and times of Borombai biya and a story about the seven founders of Issyk-Kul Region, who left lasting influences on the history of the Kyrgyz people. A ceremony called "opko chapmai" was also presented.
Osh and two other regional presented traditional clothing, cuisine, and handicrafts made from leather, wool, metals, and ceramic homegoods as part of a different contest. At the competition of historical exhibits, items of historical and culture value were on display, as well as valuable items brought in by residents of the regions.
Secretariat of the World Nomad Games