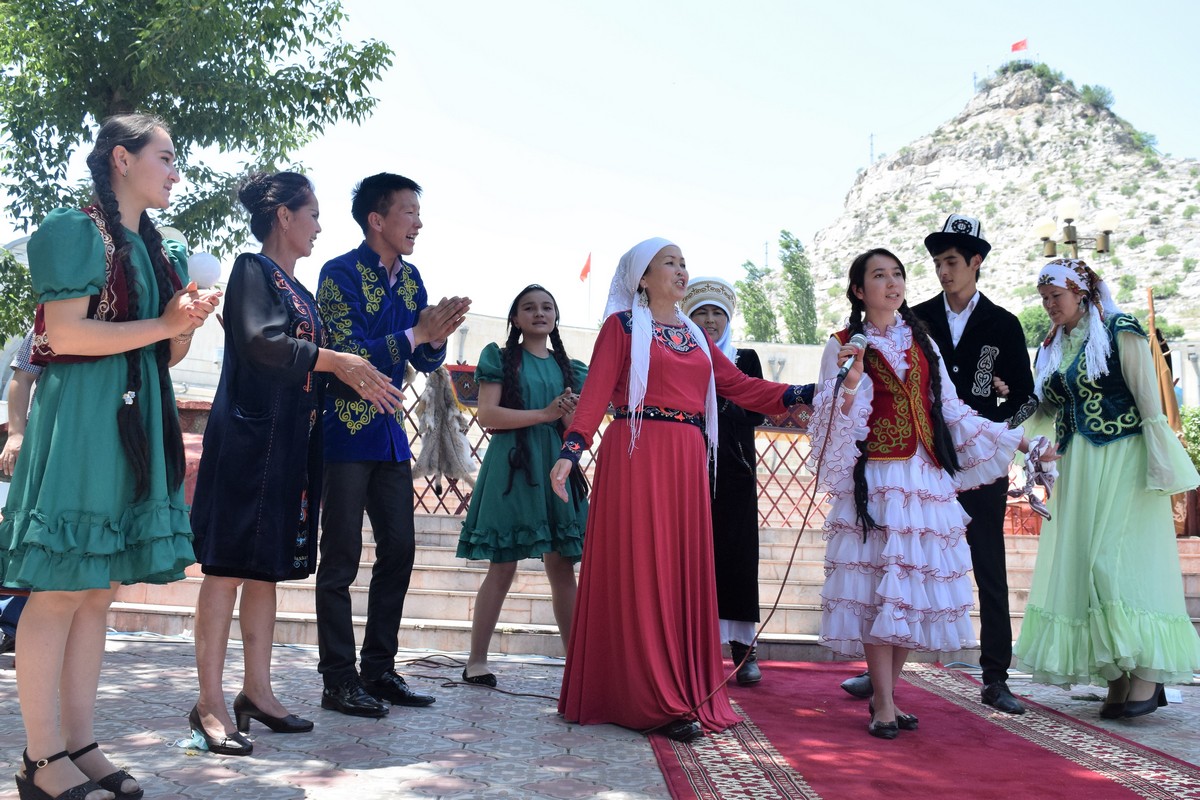 02.06.2016 12:01
The first day of the international festival "Etnomadaniyat" in Osh is over

The first day of the First International Festival "Etnomadaniyat" in Kyrgyzstan is over.
The official part of the event took place in Osh Kyrgyz Drama Theatre, where a welcoming speech was made by the head of the State Directorate responsible for the Year of history and culture - S.Raev, mayor of Osh A.Kadyrbaev, head of plenipotentiary representatives of the Government of the Kyrgyz Republic (GKR) in the areas of: Osh - T.Sarybashov, Jalal Abad - Zh.Egamberdieva and Batken - Zh.Razakov. Further, officials became familiar with the process of tenders for ethno fashion and ethno music.
At this time, in the summer playground of the park Toktogul craftsmen and collectors of Osh, Jalal-Abad and Batken oblasts presented their collectible jewelry, household items, as well as stamps, coins, print books in the exhibition called "Ancient Exhibition" and "Antiques".
Special attention of participants was drawn to "Ethno City" located on the stretch of road from the Kyrgyz Drama named after S. Ibraimova till the central square. "City" impregnated with history and culture of ancient peoples did not leave guests indifferent to itself. Funny Kearney - surney players, doyrachi touted the passers to the recreated in ethno style naabaykanas (bakery), a smithy, a teahouse, sooru (deck chair) in order to get acquainted with original culture of ancient people.
A contest of national dishes was launched at the Victory Square. Dishes prepared from dairy products, meat products, freshly national drinks were presented by the participants from the regions.
At the end of the first day of the festival, ancient customs and traditions of nomadic peoples were demonstrated with participation of all interested visitors. Tushoo Kesuu (circumcision), beshikke boloo (rite of laying in a cradle), Kiz uzatuu (bride off) and other theatrical performances of nomadic peoples' rituals were held in the park named after Alymbek Datka.
Events in all venues were accompanied by performances of creative groups and folklore ensembles.
The festival will continue on 3 June and will end with a gala concert featuring the Kyrgyz stars of the stage in the center of Osh city.
The organizers are: Directorate for preparation and holding of the Year of History and Culture, the Secretariat of WNG 2016, City Hall of Osh, the Plenipotentiary Representative of the Government of the Kyrgyz Republic in Osh, Jalal-Abad and Batken region.