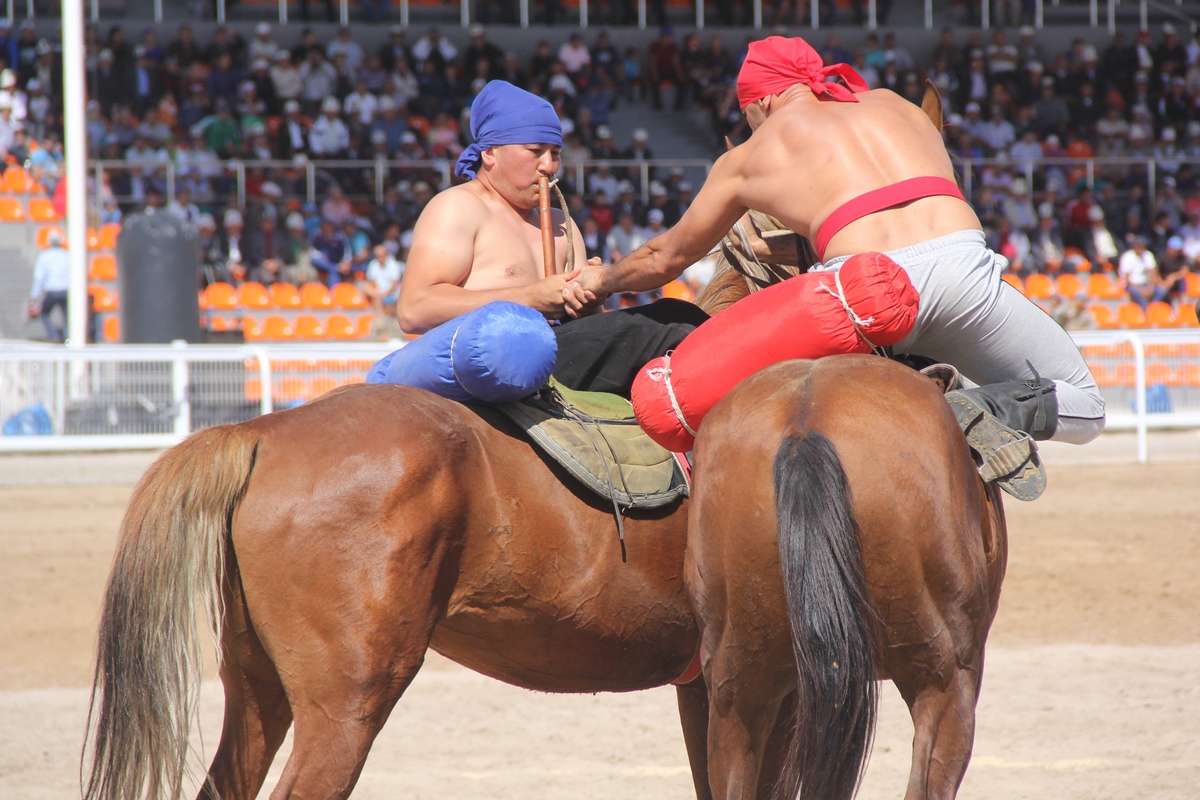 07.09.2016 17:32
Winners in Er Enish are Decided
Today, September 7, in the fourth day of competition, the final matches in Er enish were held at the Hippodrome in Cholpon-Ata as part of the World Nomad Games.
In this sport, 25 athletes from Kyrgyzstan, Kazakhstan, Russia, China, Hungary, Mongolia and Afghanistan participated in three weight categories: up to 70 kg, 90 kg and over 90 kg.
In a weight category up to 70 kg, the gold medal was won by Kyrgyz athlete Kalybek Buzurmankul uulu (1993). In the final he defeated the Kazakh athlete Ernazar Baigonoev (1991). In this weight category the Chinese athkete Akat Duishon uulu won the bronze medal. (1990)
In a weight category up to 90 kg, for the gold medal fought Kyrgyz athlete Maratbek Altymyshev (1977) and Kazakh athlete Syrym Izbarasov (1989). Kazakh rider won the battle, and the Kyrgyz athlete took the silver medal. The Chinese athlete Bashan Muhbili uulu (1975) won the bronze medal.
In a weight category over 90 kg for the first place fought Kyrgyz athlete Kanatbek Alpanov (1986) and Kazakh athlete Birzhan Kosaliev (1985). In the end, the Kazakh athlete won the gold medal. The rider from Afghanistan Tashkurgani Gulbodin (1983) won the bronze medal.
For reference
Er enish is a traditional form of Kyrgyz horseback wrestling with a distinct warrior-like character. In ancient times, aggressive actions towards one's opponent were allowed. Its technique looked brutal, with the sole aim of defeating the opponent.
Secretariat of the World Nomad Games