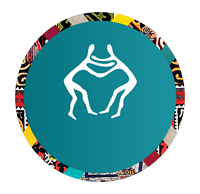 Aba Kurosh – Traditional Turkish Wrestling.
Aba Kurosh is one of the oldest forms of Turkish wrestling, and one of the first to have special clothing. Aba Kurosh was also used as specialized military training for fighters.
Aba Kurosh involves different holds on the clothing or the body of one's opponent. There are many different styles that involve legs and throws while holding the belt or jacket. The goal of the game is to throw one's opponent on his shoulders. Bouts were held to the accompaniment of different traditional instruments, including drums and wind instruments. The wrestlers arrive to the mat in short capes with slots for hands, or in jackets made of sheepskin, which is how the sport got its name – aba is the word for sheepskin.
Teams consist of three people, including two athletes and one coach. There are no weight categories – any man over 80 kg can compete.
Download detailed rules of Aba kurosh