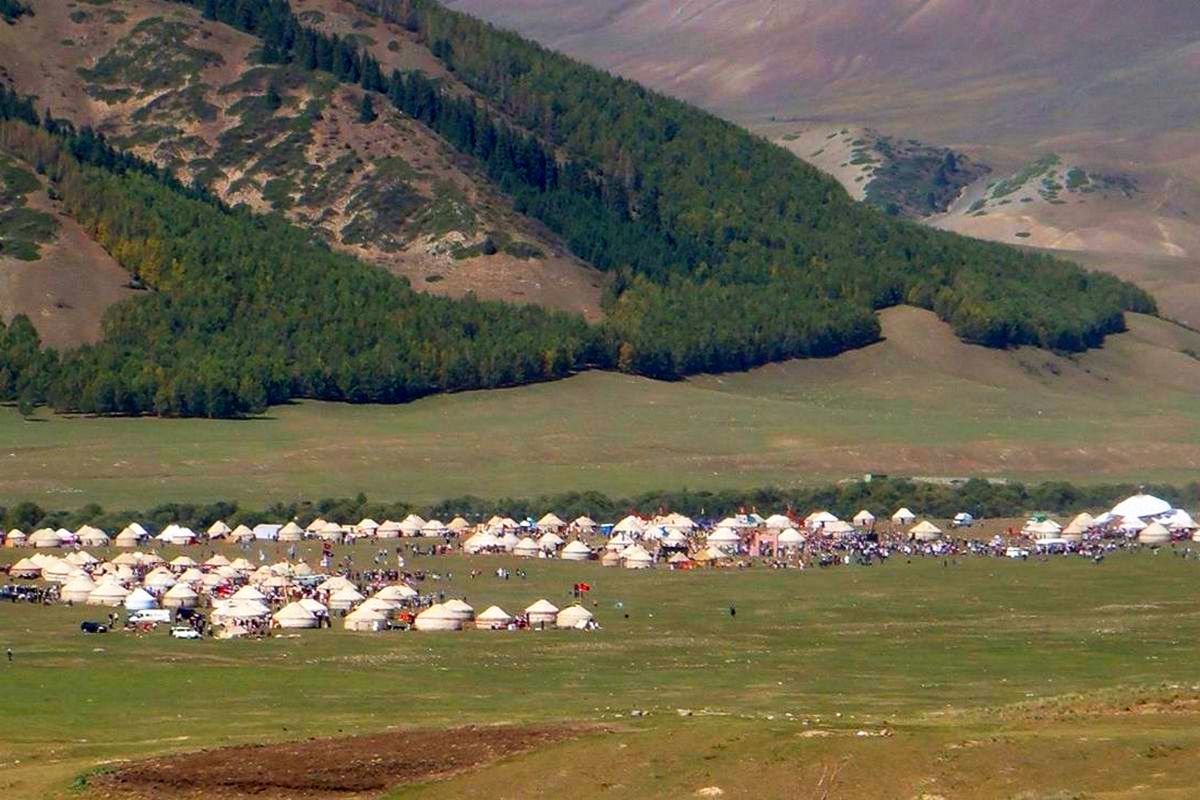 12.08.2016 13:10
288 Yurts Will Open in Kyrchyn Gorge as Part of "Kyrgyz Village" Ethno-Village During the WNG
As part of the Second World Nomad Games 2016, on September 4th, 288 yurts will open as part of the "Kyrgyz Village" ethno-village in Kyrchyn Gorge.
Nomad camps, as part of "Kyrgyz Village", will stretch grandly across the picturesque gorge from southeast to northwest.
The ethno-village will consist of nine nomad villages, each of which will consist of 25 yurts. These will represent the seven oblasts of Kyrgyz Republic and the cities of Osh and Bishkek.
Entrance to the village will be through the central gate (darbaza), decorated in ethno-style flags. On both sides will stand small traditional stone sculptures, called balbaly.
Young men and women in traditional clothing will stand next to this charming gate to greet guests.
From their first steps, guests will be able to feel the unique atmosphere of the beginnings of the celebrations, personally seeing nomadic culture and acquainting themselves with the traditions and customs of the Kyrgyz people.
In the central square, on the podium, the biggest yurt, Khan Ordo, will be constructed, as well as two smaller yurts for special guests, as well as two watchtowers on either side of Khan Ordo, flagpoles, and a decorated tower.
Separate yurts will serve as the headquarters for emergency services, law enforcement agencies, healthcare services, and a press-center for local and foreign media outlets.
Special areas will be reserved for foreign delegations, where representatives can construct their traditional modes of housing.
Another area with 60 yurts will be for visitors who are involved in the food court and other similar services.
Public toilets with plumbing, trash receptacles, and water fountains will be available on the site.
For parking, the organizers reserved 87,429 meters near the ethno-village.
The Second World Nomad Games will take place from September 3rd through 8th, 2016, at Lake Issyk-Kul. The program includes spectacular sporting competitions in 23 different kinds of traditional sports, "Nomad's Universe" folklore festival, as well as other cultural and sporting events, which will take place in the Hippodrome in Cholpon-Ata, as well as in the picturesque Kyrchyn Gorge and in the Health and Wellness Center.
Secretariat of the World Nomad Games