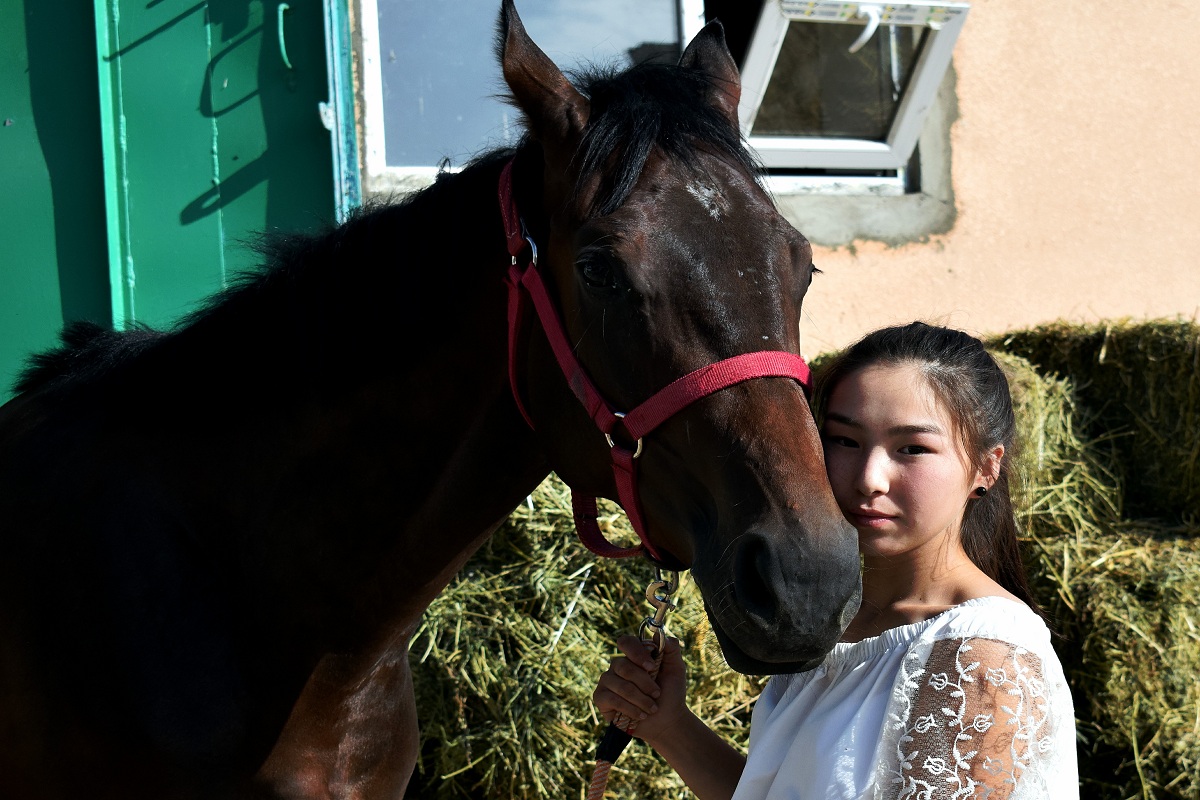 08.09.2018 11:48
A horse starts a race knocking the ground with a hoof
From childhood the Kyrgyz nomad people ride a horse. So do girls. There are many examples of stories, when old women in white elecheks (Kyrgyz traditional headdress) were riding a horse leading the nomad people. And Nazik Burganakova proves this fact. This 15-year-old Cholpon-Ata citizen won a horse race competition of the III World Nomad Games among children class of 1,600 meters' distance. Burganakova shared with us her techniques of possession and a special attitude to horses.
Nazik, how long have you been riding a horse?
From my childhood. Watching a race, I imagined if I was a jockey. I have started to learn how to ride a horse with my father since 11. From the first days of trainings my dad taught to ride not a horse, but a racehorse. As it says in the Kyrgyz proverb, how you ride a horse for the first time shows how you will ride it in future. May be that's why I always take places in competitions. After classes I always practice in riding a horse in mountains and on the shore of Lake Issyk-Kul.
Tell the story about your racehorse?
My racehorse was sent from England to Kyrgyzstan when it was little. My father promised to give a horse as a gift when I rode a horse for the first time in my life. We bought it for $5,000 in the beginning of May. Since that time I have been always by the side of my horse. Then I got an invitation to the Nomad Games. Some racehorses can be naughty, but not mine.
I don't understand those who endlessly torture their horses. Racehorses expect the owner to be nice and kind. Unlike ordinary horses, racehorses are very sensitive and receptive. I try not to hurt my horse. Horses feel pain. And they know how to be offended. Only the rider who knows everything about his horse can ride it. If something happens to my horse, I mean, if it feels unhealthy, it's not in a good mood, it doesn't want to eat, then I immediately tell my father.
How much time it takes to prepare a racehorse for competitions?
Winning prizes requires hard work. In winter all horses must rest for a month. To prepare a horse for horse racing, you have to work with it a lot. There are many types of races: for short and long distances, three-year-old horses' race, pacers' race. Each type has its own distance. For example, high-speed race on two-year-old horses – 1,400 meters, older than three years – 2,400 meters. We took the distance of 1,600 meters on the World Nomad Games. Athletes from Uzbekistan, Russia, and Kazakhstan participated in the competition. I really liked beautiful horses of Kazakhstan. It turned out they are champions of Kazakhstan.
I'll tell you about the rules of races, to not let the horse get tired, you need to save the horse's strength until the last seconds. When I had 500 meters to the finish line, I let go of the reins, these are the main rules. I'm not just riding a horse. My father, grandfather are all people who have been always living with horses and they understand horses. I was given a valuable advice by connoisseurs of racehorses. My grandfather Burganak grandfather once was the director of the stud farm. Even if my grandfather is old, he has beautiful horses. My grandfather takes care of seven horses, prepares for the races.
What have you felt when you won gold?
It has been a year since I took part in big horse races. How much is trained a jockey, so much easier to a horse to come first. I have been to Tajikistan, took the second place, received a prize of $1,500. I consider it very honorable to present Kyrgyzstan at winning prizes abroad. I'm proud of my classmates, they always come to cheer for me. I worry when I return to Kyrgyzstan with a victory. I took the first place in the national race for the Victory Day in Cholpon-Ata. Thanks to my father for all my victories, his advices as a connoisseur of horses helped me to win competitions. I would not take part in horse racing if my father didn't help me and trained. I am very grateful to my father and grandfather for appreciating Kyrgyz national horse games.