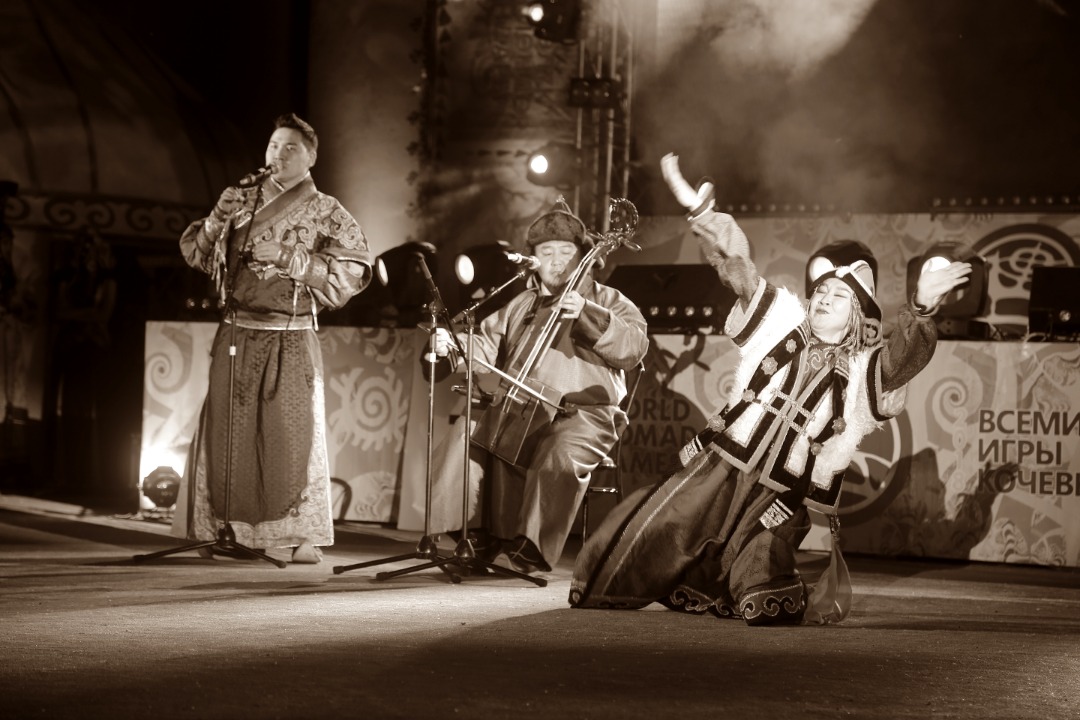 07.09.2018 14:11
NOMAD: The main goal of the ethnic festival is to strengthen culture
On September 6, within the framework of the World Nomad Games in the amphitheater "Nomad" the ethnic festival "The Universe of Nomads" continued with traditional songs and dances. The events took place in the atmosphere of the Art festival. The spectators of the ethno-festival perceived the festive concert with great enthusiasm. The Art Festival began with the prologue "The Spiritual Power of the Nomads."
During the fiesta the ex-governor of the Issyk-Kul region, the author of the World Nomad Games Askhat Akibayev made a congratulatory speech. He wished the guests, foreign participants of the festival a successful performance, also stressed that thanks to them our people will learn their traditional songs, dances and features of the life, philosophy of each participating country. Also he noted that this festival, which is taking place within the framework of the project "Universe of the Nomads" united many countries and created conditions for acquaintance with the cultures of different peoples.
In the official part of the festival the director of the Department of Tourism Azamat Jamankulov said: "The main goal of the ethno-festival held within the World Nomad Games is preservation of the disappearing components of some peoples' cultures of the world. In the 21st century, in the era of developing modern technologies, where the Internet dominates, the national traditions are forgotten; therefore it is necessary to try to transfer this heritage to the next generations. In today's ethno-festival there is a unique opportunity to contemplate the national cultures of different countries, to enjoy their national clothes, fashion, and familiarize ourselves with their customs. In addition our ethnofestival as a result shows to the young generation the inseparability of our cultures with the harmony of nature".
In the amphitheater "Nomad" numerous spectators had the opportunity to enjoy musical compositions from Western America, Guinea-Bissau, Sierra Lyon, Liberia, Senegal, the performance of the ooz-komuz players Talgat Kozhbanov from Kazakhstan, the performers from the Korean diaspora with their national drums, famous dance group "Will be", creativity of the national folk group "Argymak" from Bashkiria; all that was accompanied with deafening applauses. In addition the audience was shocked with the national dresses of the participants of the "Ethnofashion" festival: "Gurdofarid" from Tajikistan, "Edegei" from Tuva, "Shamans of the 21st Century" from Kyrgyzstan.
At the ethnofestival, local and foreign participants performed more than thirty creative performances. The cultures of many peoples - Altai, Tyva, Mongolia, Azerbaijan, Turkey, Kazakhstan, Yakutia, China, Bashkiria and Kyrgyzstan were demonstrated with traditional national songs and dances. In addition the national costumes of each of the participating countries were presented.
About 130 delegates participated in the ethnofestival "The Universe of Nomads" in different genres "Etohit", "Ethnodance", "Ethnofashion", "Ethnobazar", "Ethnohome" and oral works (epics).
The concert program ends on September the 7th.