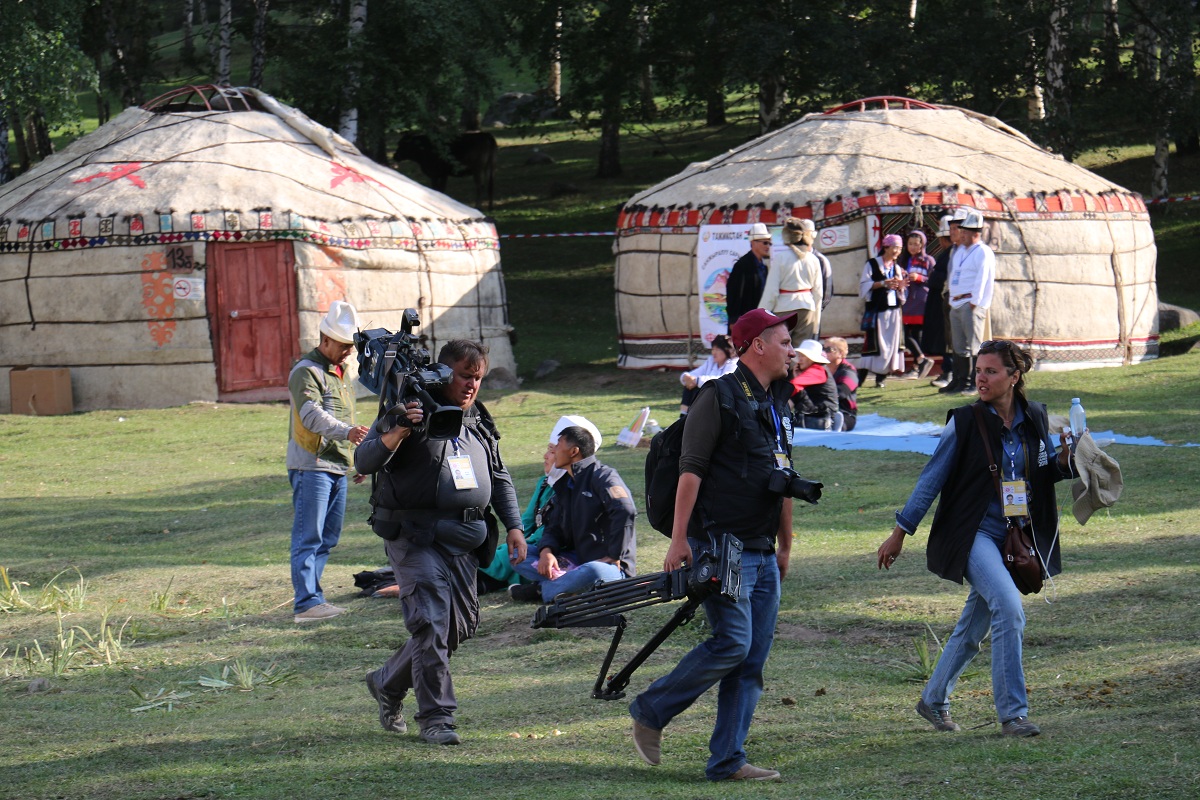 07.09.2018 13:49
Actually the Third World Nomad Games are covered by the arrived 604 representatives
The Third World Games of nomads have been widely covered in the world press. Instead of 571 accredited at these Games, 604 representatives of foreign mass media from 56 countries actually took part. Of these there have been 50 television channels, 12 radio stations, 67 news agencies, 48 ​​newspapers and 50 bloggers. Many journalists, photographers and operators traveled to the Games on their own without prior accreditation, but even for them the organizers quickly prepared badges; in short, they created conditions for fruitful work.
Among the arrivals to work for III World Nomad Games there are such well-known media as:
BBC Radio, The New York Times, Financial Times, National Geographic Society, Associated Press, Canadian Journal of Nomads, Aljazeera network, CCTV China Channel, Kazakhstan Khabar TV channel, daily nationwide Dutch newspaper NRC-newspaper, TV channel United Arab Emirates Abu Dhabi Media, MTRK MIR, Russia Today, Russia's TASS, VGTRK, IA Interfax, German TV ZDF-Moscow office, Match TV, Anadolu Agency, TRT (Turkish Radio and Television), TRT EL Arabia, NTRC "Uzbekistan" TV channel "Madaniyat v mamurifar", Ukrainian News Agency "Urkpress.info", International business magazine "Image.ua", Fransuz ALTAPRES S, France Televisions, MIA "France Press", German Sputnik news Deutschland, Estonian Film Studio "Corella Film", Japanese news agency "Tosei" and others.
The Nomad games were covered and continue to be done by over 700 representatives of 70 domestic media outlets. Of these, 26 Internet media, 7 radio, over 30 state, regional, private TV channels, and 12 printed media.
Broadcasting of the III World Games of nomads was provided to more than 60 countries of the world, of which broadcasting was done live in the CIS, Baltic countries and Georgia. The following TV channels were broadcasting live: Azerbaijan Television, Khabar, Kazakh TV, El Arna and Khabar 24, World TV Channel, TRT (Turkish Radio and Television), National Television and Radio Broadcasting Corporation of Uzbekistan. Also in the age of high technology development, delivery and broadcasting of the World Nomad Games was carried out online. Such world agencies as the Associated Press, France Press, Russia Today, including social media and others broadcasted the opening ceremony of the Games in Europe online. Video and video clips of WNG are broadcasted by the Azerbaijani television channel. CCTV, Danish television, Russia and Russia 24 are also broadcasting news stories on a daily basis, Abu Dhabi Media is making a documentary about WNG, Danish TV is filming a documentary as well.