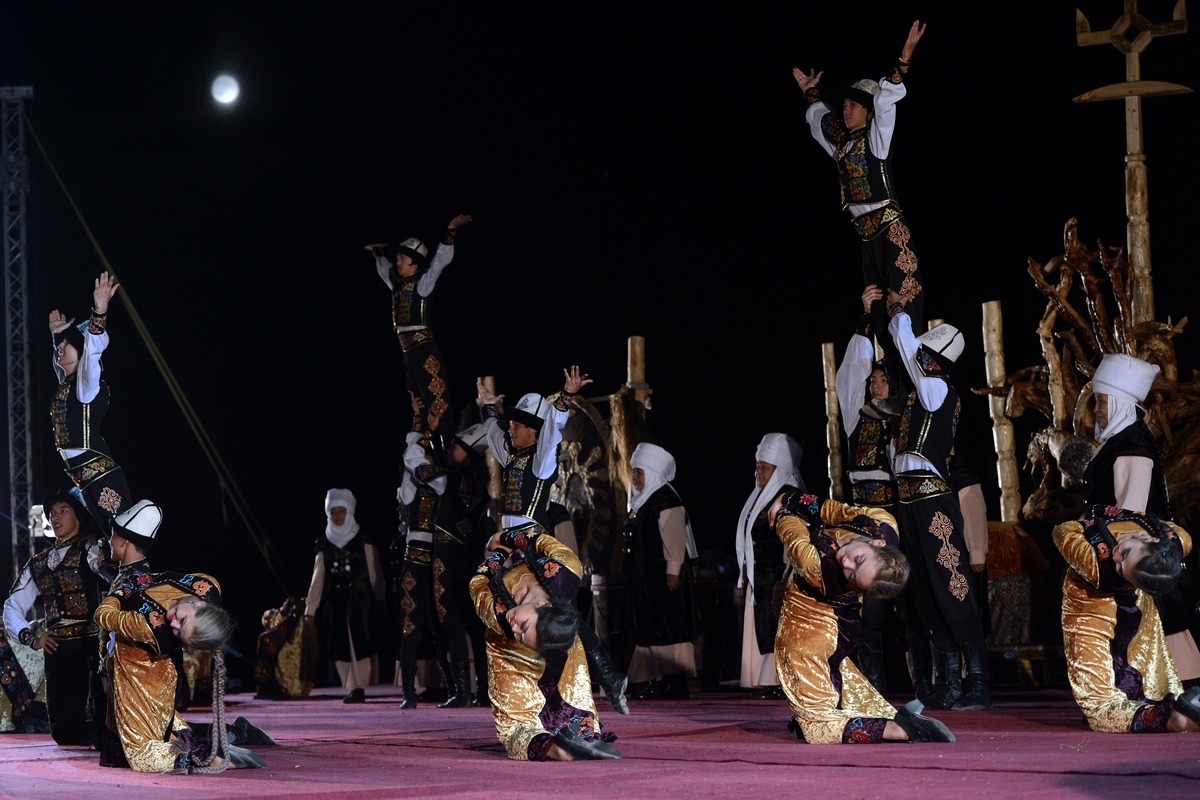 31.08.2016 11:30
Cultural and Sporting Programs Approved for World Nomad Games
The cultural and sporting programs have been approved for the World Nomad Games, which will take place September 3 through 8, 2016, at Lake Issyk-Kul.
1000 athletes from 53 countries are set to participate.
Around 500 representatives of media outlets will cover the event, including 90 foreign journalists from 35 countries. Ten local and foreign TV channels will provide live coverage of the Games.
Participants and audience members are waiting for the colorful Opening and Closing Ceremonies, for sporting competitions in 23 types of sports, and also for the vivid folklore festival.
From September 3rd through 8th, 2016, sporting events will be held simultaneously in several places in Issyk-Kul Region, including Issyk-Kul Aurora Resort, in the Sports and Recreation Center and the Hippodrome in Cholpon-Ata, and in Kyrchyn Gorge.
From September 4th through 8th, the gorge will be the main venue of the "Nomad's Universe" folklore festival.
The Opening of the Nomad Games will be held in the Hippodrome in Cholpon-Ata in the evening of September 3rd. The main ceremony starts at 20:30, and will include performances from riders, a concert, a traditional parade featuring all of the participating countries, and more. The official opening of the folklore festival will be the following day, September 4th, 2016, at 15:00 in Kyrchyn Gorge.
From this moment, the doors of the yurt village "Kyrgyz Village" will be open for all who wish to visit, and will be open for visitors for 5 days. The village will give guests the opportunity to feel the unique atmosphere of traditional nomadic life.
The program of the "Nomad's Universe" festival promises to be rich and diverse. It includes performances of ethno-cultural musical and dance groups, solo performers, akyn improvisors, manaschy, a show of traditional clothing, theater presentations, tasting of national foods and many other interesting events. A Chinese cultural caravan will arrive at the village during the festival, and representatives of other foreign delegations will show their national customs and traditions. In the squares of the "Kyrgyz Village", competitions will be held between masters of applied and musical arts. Representatives from the regions of Kyrgyzstan will compete to find out who can construct a yurt the fastest.
An integral part of the festival will be competitions in traditional kinds of sports.
The full schedule of sporting events in Cholpon-Ata and the program of the "Nomad's Universe" folklore festival in Kyrchyn Gorge can be found on the site of the World Nomad Games - www.worldnomadgames.com
Secretariat of the World Nomad Games