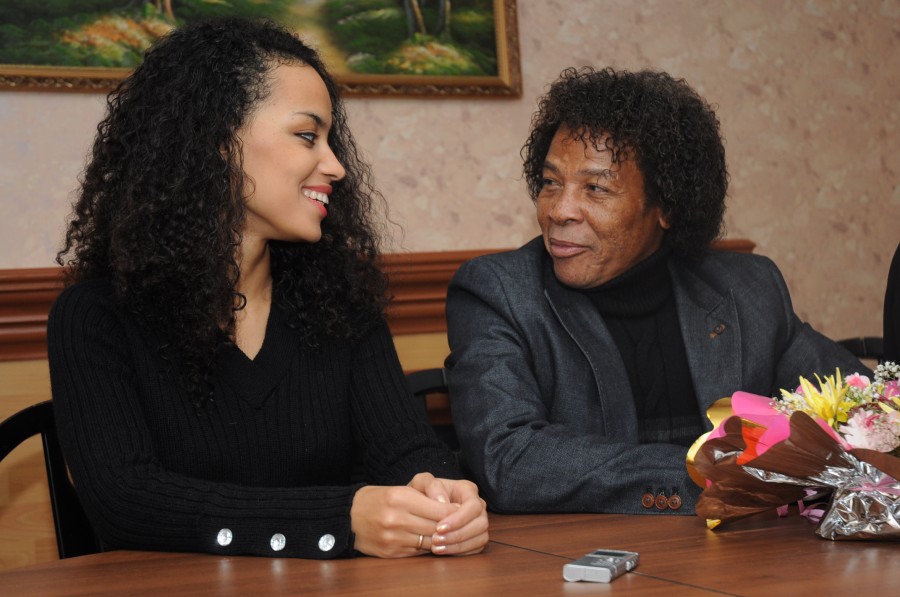 07.09.2016 11:07
Famous Group Ottawan Arrived in Kyrgyzstan
Today, September 7, the successful and popular musical group of the era of disco duet, one of the most popular groups of 80s – the French group Ottawan arrived in Kyrgyzstan.
Journalists met the group at Manas International Airport.
The famous band will perform tomorrow, September 8, at the Closing Ceremony of the World Nomad Games.
The soloist of the group Jean Baptiste-Patrick told reporters that the group is not performing in Kyrgyzstan for the first time.
"I've been in Kyrgyzstan for several times and I like it. I like the mountains, nature and your faces. As for the World Nomad Games, I am very much in favor of this event", - said Jean.
He also noted that he would like to sing a duet with Kyrgyz singer to music performed on national instruments.
At the Closing Ceremony the popular Russian pop, house singer, ex-soloist of the group "A'Studio" Polina Griffith will perform, along with legendary group "Gorod 312", popular Kazakh band "Ayumi" consisting of three young and talented girls, the winner of Turkvizyon 2013 – singer from Azerbaijan Farid Hasanov, finalist of Turkvizyon 2014 – singer from Turkey Funda Kilich. A duet from Yakutia (Russia) Evgeniy Zolotaryev and N.Lhasaranova will also sing.
In addition, well-known dancer and showmen, finalist of "America's Got Talent 2011" Snap Boogie (Cjaiilon Andrade) will dance together with Kyrgyz dancer Jan Voinov
Outstanding Kyrgyz pop stars will also perform at the Closing Ceremony of the Games.
The Secretariat of the World Nomad Games