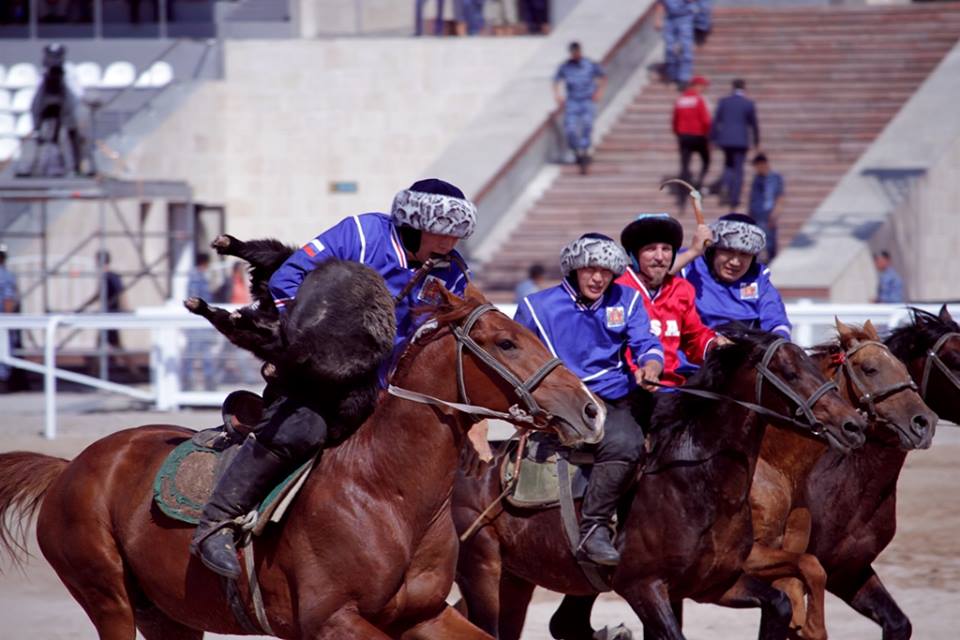 04.09.2016 08:54
Group games on Kok Boru has began
Today, September 4, Group games on Kok Boru has started at the hippodrome in Cholpon-Ata city as part of the II World Nomad Games. In general, 8 teams divided into groups A and B will participate in competitions in Kok Boru.
Following the draw, the group A included teams from USA, People's Republic of China, Kazakhstan and from Russia Krasnoyarsk krai.
The group B included national teams on Kok Boru from Kyrgyzstan, Turkey, Bashkortostan (Russia) and Afghanistan.
Teams from USA and Krasnoyarsk played today. The team from Krasnoyarsk won the team of USA with a score 17:7. It should be noted that the Americans taking part for the first time in competitions in Kok Boru in Kyrgyzstan. A group of United States of America consist of 10 cowboys from Jackson Hole, Wyoming.
The second game was between the teams of Kazakhstan and China. The game ended with a score 15:1 in favor of the national team of Kazakhstan.
Today at 14:00, competition between teams of Bashkortostan and Afghanistan will be held.