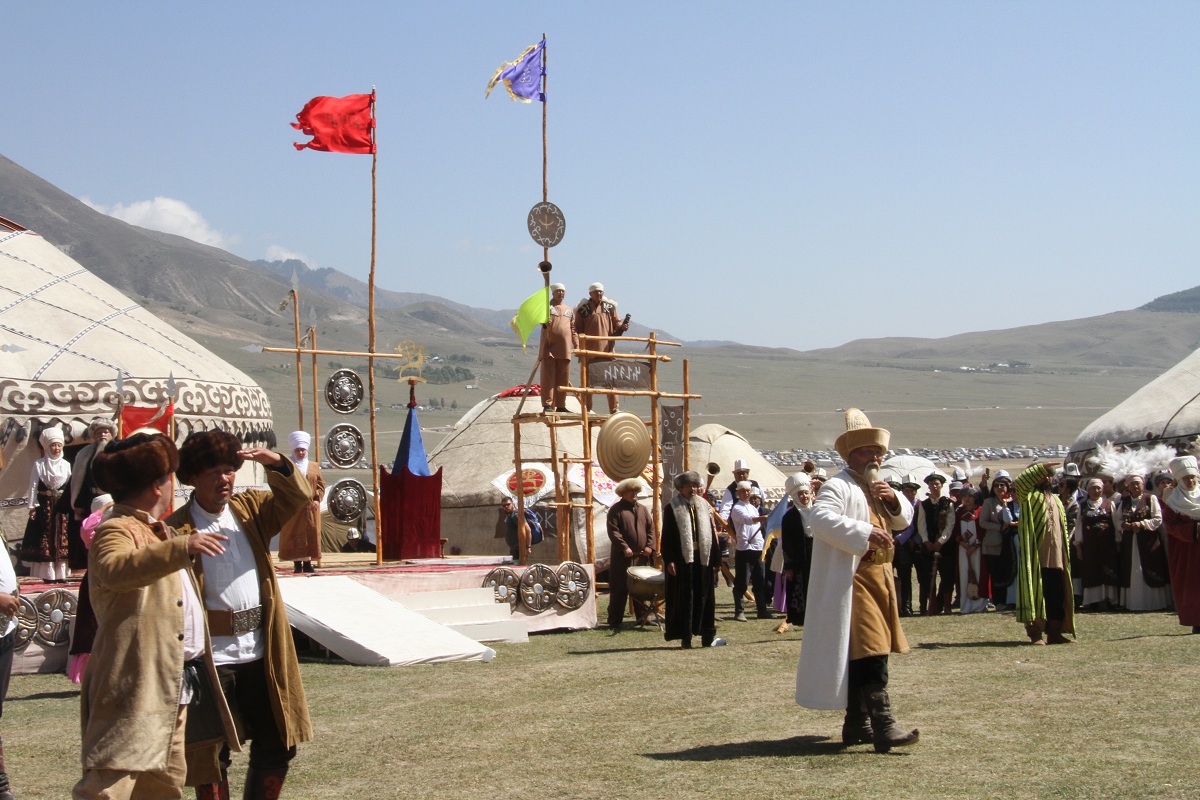 04.09.2018 17:36
In Kyrсhyn the Osh province demonstrated the custom "Khan kotoruu" (Election of Khan)
In the gorge of Kyrchyn they continued the activities scheduled in advance in the program of the III World Nomad Games. Seven provinces of Kyrgyzstan, in their locations, showed diverse national games and theatrical performances.
Osh province demonstrated the genuine traditional custom of the Kyrgyz people "Election of Khan". First comes the most revered elder and proposes to elect the khan of a young man with a white falcon on his head, it launched in advance by the eldest. The flying white falcon, having made several circles above the assembled people, sits down on the head of one young man, that young man is put on a white felt carpet and they sacrifice a white mare. In this way the Khan is elected.
The head of the elders announces the commitment of the Khan to his people, takes his oath to his people with the subsequent their blessing.
This theatrical performance inspired the audience and aroused great interest especially among foreign guests who came to the Kyrchyn gorge.
Further, talents from the Osh region continued their performances. Numerous applauses were awarded to the well-known singer with traditional music instrument komuz Jolboldu Alybaev.
According to the data provided by the head of the department of the Ministry of Labor and Social Protection in the Osh region Baltabayev Abduvali, the Osh province exhibited 18 yurts. Of these, 4 yurts are participants in the competition, 3 yurts are exhibited in the ethnic bazaar of Kyrchyn. In addition, the Osh province also participates in the inter-regional competitions "Folk art", "National handicrafts" and the culinary competition "Gulazyk".
Thus, the extensive cultural events held by the participants from seven provinces of Kyrgyzstan in the Jailoo Kyrchyn are very warmly hosted for foreign visitors and journalists.