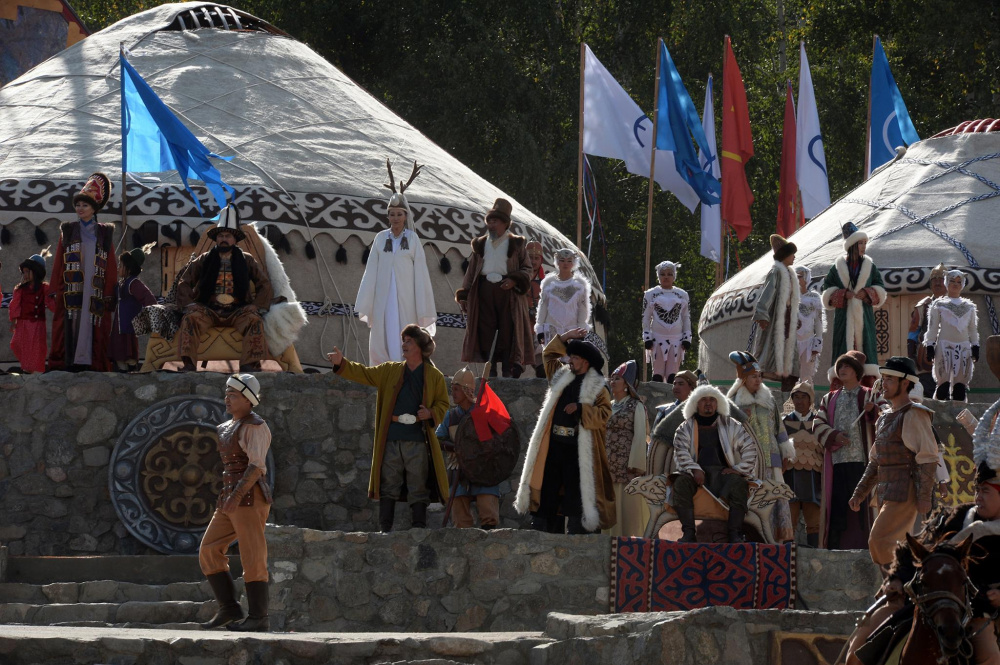 03.09.2018 22:42
In the ethnic village Kyrchyn theatrical performance "Golden Age of Nomads" was presented
In Kyrchyn's ethnic village in Issyk-Kul oblast today, on September 3, a cultural program began in the framework of the III World Nomad Games. Activities there will last till September 6.
Let's note that in the tract there is a yurt village of about 1 thousand yurts.
Guests of the events were presented with a theatrical performance "The Golden Age of nomads" with the participation of more than 1600 people, telling about the history of the Kyrgyz people in the period covering the 9th and 10th centuries anno domini. This is the peak of the heyday of the Kyrgyz Great Power, the borders of which stretched from the north, from Siberia to the south - to Tibet, from the west - from the Southern Urals to the east - the Amur River.
In the performance the story tells about the period of the great power of the Kyrgyz Kaganate, about the life of Kyrgyz people, their traditions, customs, military campaigns and the repulse of enemy raids of those times, also about relations with other states.
The main action happed in the main fortress of Khan of the Kyrgyz, where on the occasion of the victory over the enemy army people enjoy the large-scale celebration. The invited high guests are heads of states, heads of tribes, representatives of various peoples, they all showed their deep respect and appreciation to the Khan and the entire Kyrgyz people, and presented their gifts. These events testified to the "golden age" of the Kyrgyz great power.
In the course of the fiesta performances of equestrians, equestrian games of the Chabandes, horse races, archery, javelin throwing, games of joo jarysh, kiz kuumai, at chabysh, er enish, balban kurosh were spectacular.
In the theatrical performance a sudden invasion of the enemy forces into the peaceful life of the people was shown. However, the spirit of the independent and free Kyrgyz people, their courage, wisdom, unity, helped to defeat the enemy and once again they showed their greatness.
It should be noted that in the framework of the cultural program in the ethnic village the guests can see and attend other events, including national traditional songs and dances; scenes of medieval battles and stunts on horseback; staged productions telling about national traditions and customs; games from the life of nomads; fair of folk art and crafts; demonstration and tasting of national meals; showing clothes of nomadic peoples; acquaintance with the fine arts (painting, drawing, sculpture), reflecting the identity of nomadic peoples. In addition the epics of the peoples of the world will be represented in the ethnographic village, competitions for quick installation and beautiful decoration of the Kyrgyz yurt will be organized.