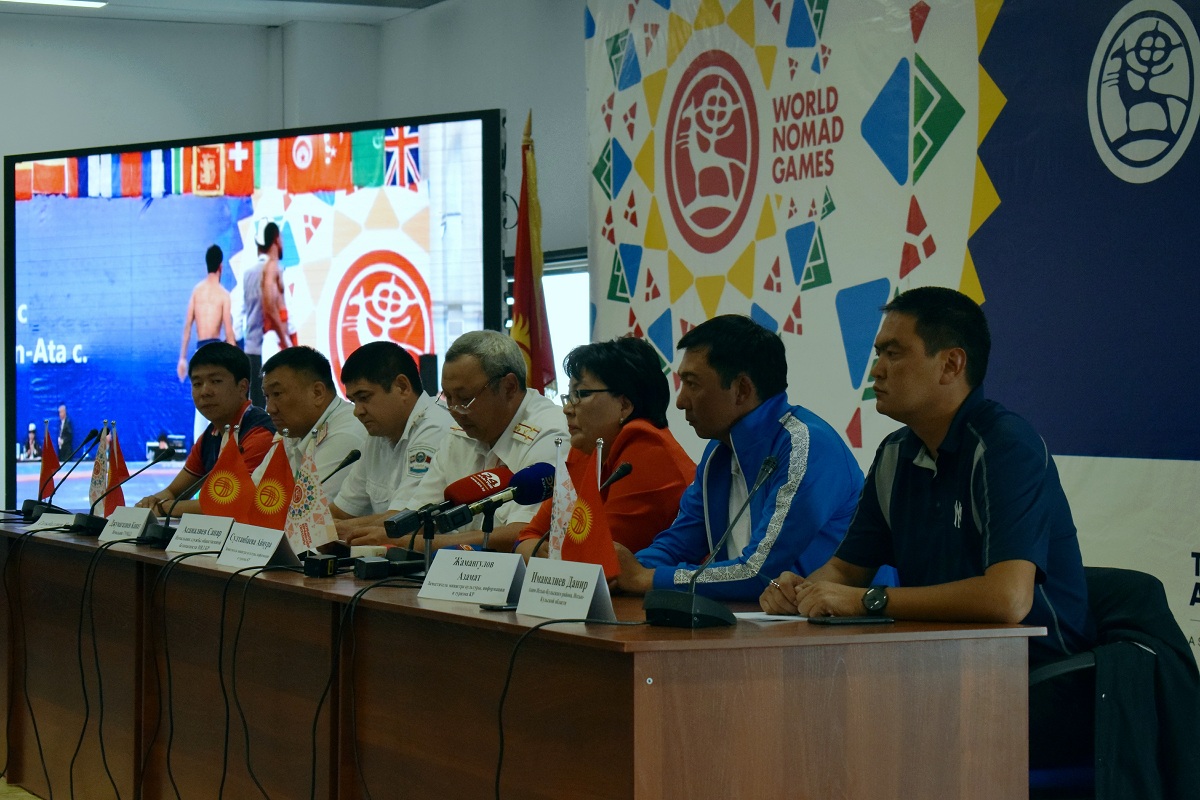 05.09.2018 20:27
Press-conference was held on the current situation at the WNG
Today, September 5 in the sports and health complex of the village Baktuu Dolonotu press conference was held with the participation of the Deputy Ministers of Culture, Information and Tourism of the Kyrgyz Republic Ainura Sultanbaeva and Azamat Jamankulov, the head of the MIA Traffic Police Kanat Jumagaziyev and the head of the Issyk - Kul district administration Danir Imanaliev.
"To date the cultural-theatrical program is in full swing. It will be held from 3 to 6 September. To date 12 mini-towns have been built, more than a thousand yurts have been installed" Azamat Jamangulov said of the work that is currently taking place in the Kyrchyn tract.
Ainura Sultanbaeva told about the international ethno-festival "Universe of nomads" which takes place from 4 to 7 September in the amphitheater "NOMAD".
"The international ethno-festival "The Universe of nomads" is a unique project, which is taking place for the first time within the framework of the World Nomad Games. The purpose of this festival is to preserve the ethnocultural heritage of nomadic peoples as an integral part of the world civilization, to develop, popularize and promote at the international level the ethnocultural traditions of nomadic peoples and ethnic groups of the world within the framework of the global ethno-cultural movement in the era of globalization. 29 countries and 8 counties of the Russian Federation take part in the ethno-festival. In this ethno - festival among the participants there are well-known people's artists of the countries of participants" she added.
"The Ministry of Internal Affairs of the Kyrgyz Republic is taking all the necessary measures to ensure public order during the III WNG," said Kanat Jumagaziev, the head of the Traffic Police Department. "In the period from September 2 to September 8 our employees work intensively around the clock. In order to regulate traffic during the WNG more than 700 traffic policemen from different regions of the country are involved" he added.
Also the traffic police representatives particularly noted that the special hot line 1262 was opened, where residents and guests of the country can apply toon the issues that arise during the WNG. For two days the hotline received over 500 calls and 57 of them were from foreign guests.
The head of the Issyk-Kul district administration Danir Imanaliev answered all questions concerning the territory of the district, in terms of sanitation and improvement. "We at our level solved all the issues in order to welcome the guests at the proper level. I also want to note that the contribution to the events by local residents is very large" he added.
Note that the World Nomad Games are held for the third time in the Kyrgyz Republic on the shores of the pearl - Issyk-Kul lake.