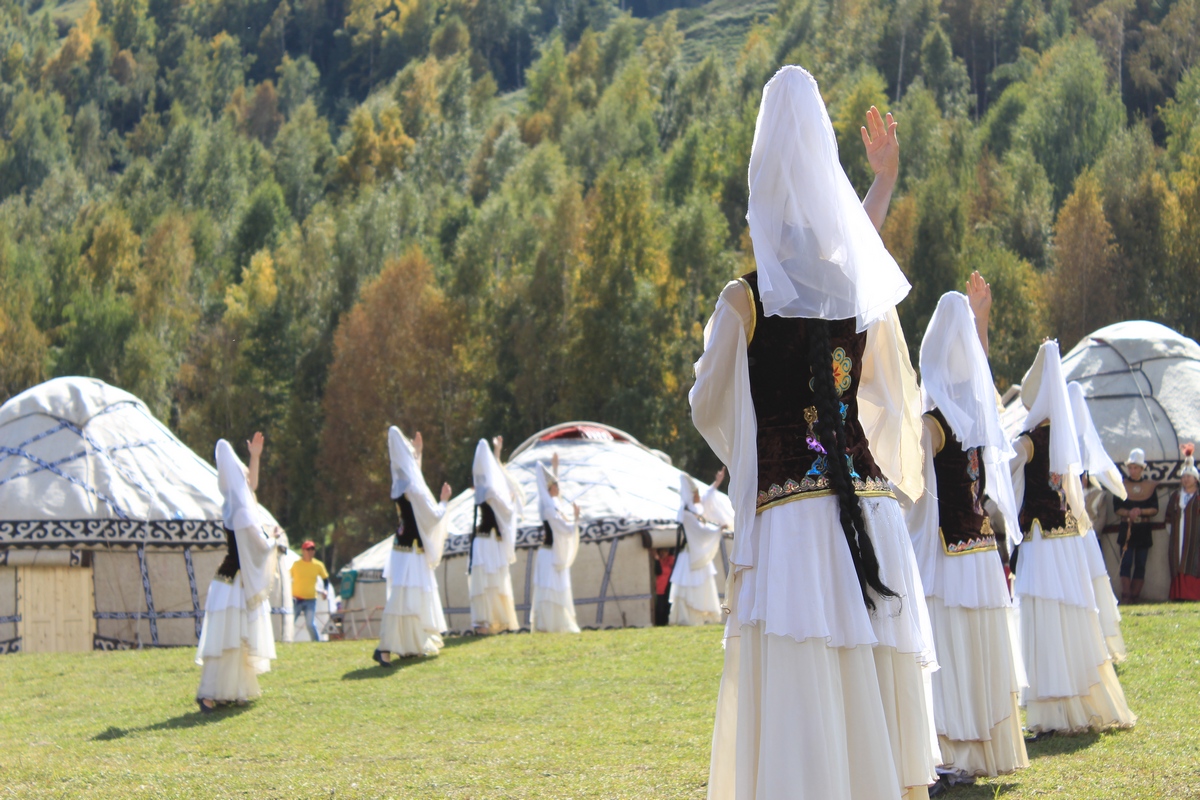 05.09.2016 16:55
Regions of Kyrgyzstan Continue Theatrical Performances at Kyrchyn Gorge
Delegations from the cities of Bishkek, Osh, and the seven regions of the republic continue their theater performances at the "Nomad's Universe" folklore festival, which is part of the World Nomad Games.
Today, September 5th, delegations from the city of Bishkek and the regions of Batken, Osh, Naryn, and Chui presented their theatrical programs.
Batken Region set up 25 yurts and brought a delegation of 460 people.
Artists from Batken Region in their presentation created a setting for the viewers dedicated to Akymkul atalyk and the Kyrgyz people in the age of the Khan of Kokand, from 1863 to 1865. They also demonstrated the rite of "baibiche kotoruu", and also performed various traditional songs and dances.
Chui Region also set up 25 yurts in their ethno-village, and each yurt hosted a unique miniature theater performance. Actors from the Chui region theater showed the audience a feat of Jaiyl baatyr, and also a ceremony dedicated to the first steps of a child, called "tushtoo kesuu" (cutting of the rope). They also performed traditional songs and dances.
The delegation from Naryn Region at the "Nomad's Universe" festival consisted of about 430 people and 37 yurts. During their theater performance, actors from the Naryn regional theater presented a piece in honor of the 220th anniversary of the birth of the hero of the Kyrgyz people Tailak baatyr, who bravely fought against foreign invaders. The audience was also shown a ceremony related to matchmaking.
Additionally, creative groups from Naryn Region performed traditional songs on traditional musical instruments and performed national dances, and also held master classes on folk arts for all who wished.
The ethno-village representing Osh Region consisted of 25 yurts and over 460 people. As part of their theatrical performance, actors from the regional theater gave a performance about the life of Kurmanjan Datka and Alymbek Datka. A ceremony called "Kuda tushuu" was also presented, as well as traditional songs and dances.
In the ethno-village of Bishkek, a performance related to the holiday of Nooruz was on the program, as well as a biography of the historical figure Baitik baatyr, where more than 200 actors from the Department of Culture of the Mayor of Bishkek participated.
As part of the competition, Bishkek and the regional representatives displayed traditional clothing, dishes from traditional cuisine, handicrafts made from leather, wool, and different metals, and household ceramic works.
For the competitions of historical exhibitions, the regions and the city of Bishkek brought items of historical and cultural significance that are held in museums in the regions, as well as historical finds and culturally valuable items brought by residents of the region.
Secretariat of the World Nomad Games