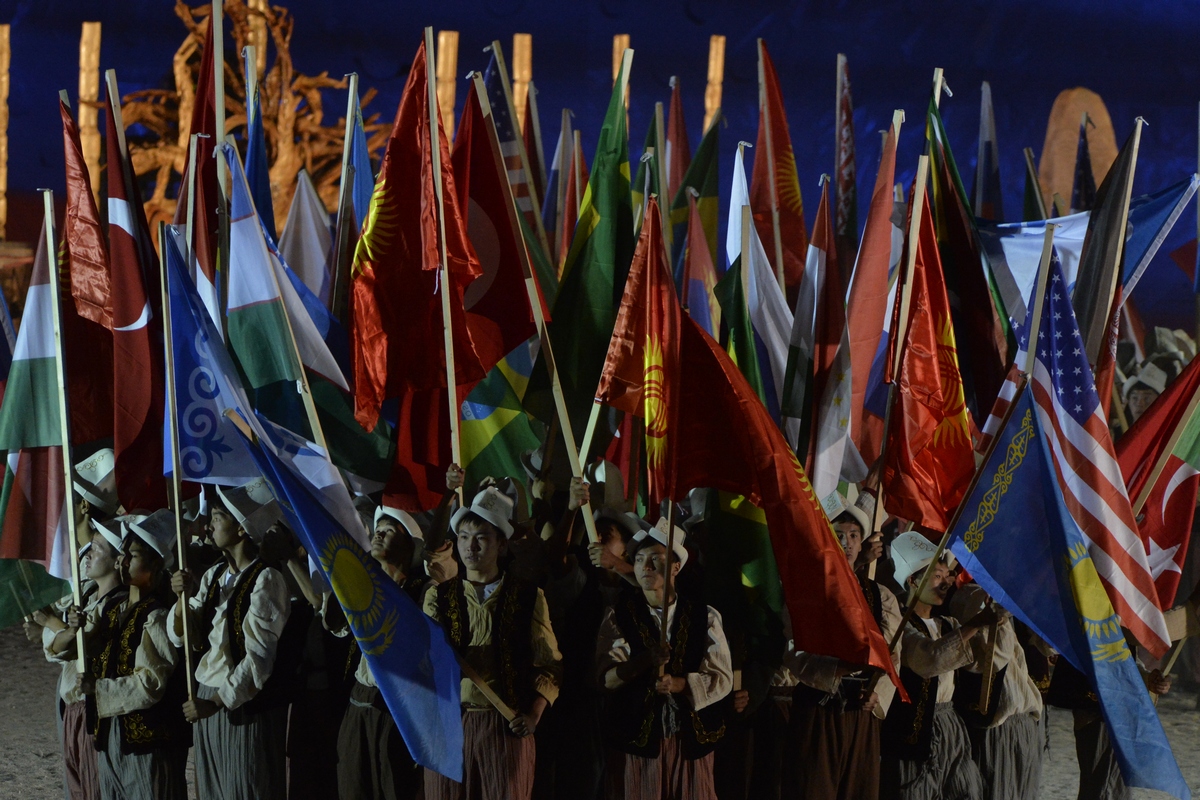 21.06.2016 12:00
Representatives from 40 countries have been invited to the World Nomad Games

Representatives from about 40 countries have been invited to participate in the World Nomad Games in Kyrgyzstan; it was said by Askhat Akibaev, Plenipotentiary Representative of the Government of the Kyrgyz Republic in Issyk-Kul region during the interview with RIA Novosti.
"The Nomad Games of this year are expected to be greater than it was in the past. In 2014 we have prepared in a couple of months. This year, we are preparing according to the plan. And if at the first Games we had competitions in six-seven national kinds of sport, this year we planned to have 26. We have sent invitations to participate to 40 countries", - said Askhat Akibaev.
He noted that the Nomad Games is an ethnosportive tourist festival, where a large number of tourists are also invited. Members of the Kyrgyz Government are expected that the Games will become a tourist brand of the republic.
The World Nomad Games is our product. For example, Kazakhstan had the Great Games of Steppes. But the Nomad Games is ours. It is not necessary to prepare for them for eight years, as it needed in the Olympics. This is more democratic games. Olympics are destiny of the rich. There are more than 200 countries in the world, and only a few of them can afford to hold the Olympic Games. But in the format of the World Ethno Games it is possible to represent any country. This is a brand new format; each country can represent there their own patterns of the town - tepees, yurts, tents. We need to show the diversity and beauty of all countries", - said the Plenipotentiary Representative of the Government.
He believes that the most important thing in such kinds of games is not competitive moment, but entertainment and mass characteristics.
The Second World Nomad Games are going to be held on the shore of Lake Issyk-Kul by the initiative of Almazbek Atambayev, the President of Kyrgyzstan. In 2014 about 300 sportsmen from different countries have participated there, among them were Azerbaijan, Austria, Afghanistan, Brazil, Germany, Mongolia, the United States and Russia. The program of events includes ethnic sports. Among them were horse races - Kok-boru, Er enish (wrestling on horseback) and intellectual games like Toguz korgool, Owari, Bao, Mangala and "Salburuun"competitions (with birds of prey). The Second World Nomad Games are planned to be held in the Issyk-Kul region from 3 to 8 September.
Source: KyrTAG