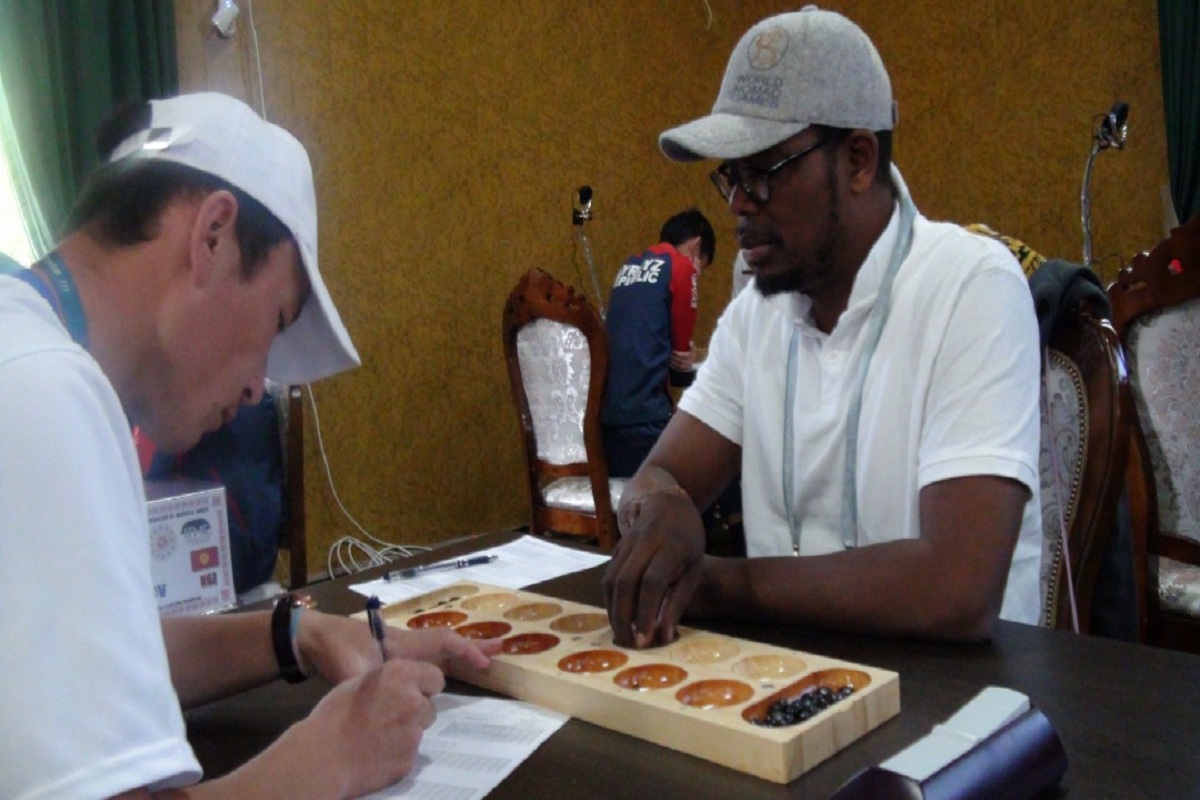 05.09.2018 21:19
Results of the intellectual game mangala
Since September 2, in the resort "Eurasia" (Issyk-Kul oblast) competitions in intellectual sports in the framework of the Third World Nomad Games were held. The program of the Games included Toguz korgool, mangala and ovari.
In these competitions, 36 teams from 34 countries of the world participate and all continents are represented, except for Australia. From Russia the teams from Altai and Yakutia take part. Toguz korgool - 85 athletes (58 men, 27 women).
Mangala - 57 athletes (40 men, 17 women).
Ovari - 54 athletes (35 men, 17 women.) registered. Ovari competitions will start on September 6. Competitions are held separately among men and women.
"Masters of sports of international classes take part in the competitions. To date the leading team in mangaka is Kyrgyzstan on, winning 4 gold, 2 silver medals. I also want to note the success of the young US national team. In addition the team of Uzbekistan for the first time entered the top three. In 2016 at the II World Games of nomads, Kyrgyzstan showed the best results and I hope that this year the updated team will show excellent results. For preparation to this contest, the funds were allocated to conduct training of the Directorate for National Sports under the State Agency. This shows that for today the Government of the Kyrgyz Republic pays much attention to the development of intellectual sports" said Kamchibek Kasymov, president of the International Mangala Game Federation.
Results of the competition in mangala:
Individual classification among men:
1 place - Anarbek Jamakeev - scored 6.5 points (Kyrgyzstan)
2 nd place - Kuban Sazaev - 6 (Kyrgyzstan)
3 place - Maksat Shotaev - 5,5 (Kazakhstan)
All-team standings among men:
1 place - Kyrgyzstan - 12, 5
2nd place - Kazakhstan - 10.5
3 place - Uzbekistan - 9
Individual classification among women:
1st place - Aziza Jamansartova - 6.5 points (Kyrgyzstan) - by the progress ratio 26
2nd place - Adina Aseyeva - 6.5 points (Kyrgyzstan) - by the progress ratio 25.5
3 place - Gulnara Bazaralieva - 6 (Kazakhstan).
All-team standings among women:
1st place - Kyrgyzstan - 13 points
2 place - Kazakhstan - 11
3 place - the USA - 7,5.
Mangala is the intellectual and strategic game of the Turkish people. It is played by two persons. On the game board there are six identical holes arranged in two rows, which together make up 12 small holes, and also there are accumulating large holes – kazans (cauldron), in which players will collect the won stones. The game "mangala" is played with 48 stones.
The game begins with a toss. Players distribute all 48 stones in four pieces to each of the 12 holes, the storage holes remain empty. Six small holes on the side of the board are the player's field, the six holes opposite, respectively, are the opponent's field. Players try to collect as many stones as possible in their cauldron. In the game the winner is the one who collects more than 24 stones in his cauldron.