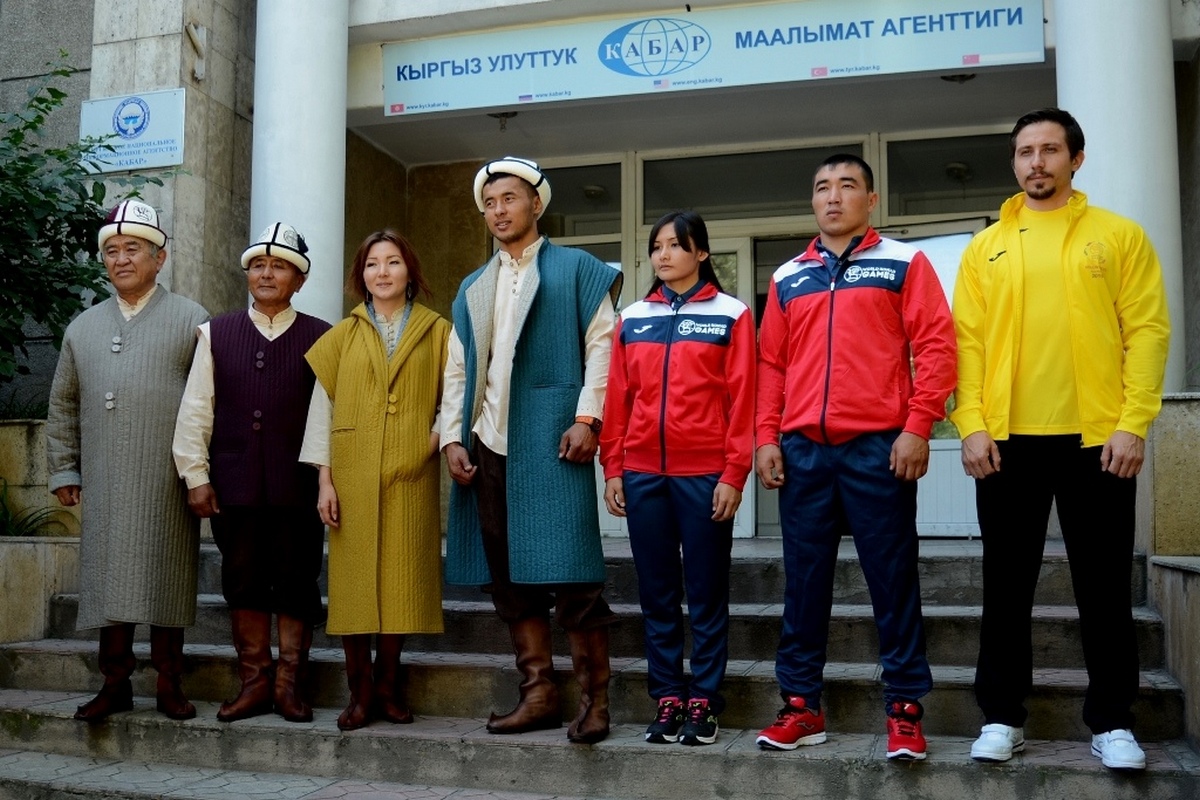 10.08.2016 16:07
The Official Uniforms for the Kyrgyz Team at the World Nomad Games were Presented
The official uniforms for the team from Kyrgyzstan were presented in Bishkek on August 9th. The Kyrgyz team will appear in these uniforms at the Second World Nomad Games.
As reported by the State Agency for Youth Affairs, Physical Culture, and Sports, the presentation of ceremonial and sporting uniforms was carried out by the head of the Department of Mass Sports of the State Agency Kanatbek Arpachiev, the director of the Directorate of National Sports Almazbek Kasenov, the founder of Chapan Studio, designer Jumagul Sarieva, manager of the company Joma in the Kyrgyz Republic Marat Baimbetov, and designer Elvira Sultangazieva.
According to the head of the Directory of National Sports, this is the first time as part of the Games that there was an initiative to redesign the ceremonial uniforms of the Kyrgyz Team, as well as uniforms for referees and trainers.
"The idea of the Nomad Games is to not only hold sporting and cultural events, but to also show your culture, lifestyle, and clothing. We are asking other countries to dress in their traditional clothing for the ceremonies, but we ourselves were in sports attire at the first Games. So for this time we decided to wear more traditional clothes," noted Almazbek Kasenov.
Representative of the State Agency for Youth Affairs, Physical Culture and Sports Kanatbek Arpachiev said that 160 Kyrgyz athletes will represent Kyrgyzstan at the Second World Nomad Games. "At such an important start as this, it cannot be just details for the athletes. It's very nice that our athletes will look good and feel good at the Games," he said.
The design of the ceremonial uniforms was done by Chapan Studio. According to the head of this company, Jumagul Sarieva, especially important was the traditional chapan, or kaftan, of the Kyrgyz people. "The chapan accompanies the Kyrgyz throughout their whole lives – from youth to old age. We added a couple modern elements, and we were very fortunate to be included in the collection," said Sarieva.
The ceremonial uniform was created in the colors of the Games – yellow, turquoise, and burgundy.
The uniform for athletes was done by Barakat Trade, which represents the sports brand Joma.
The collection for athletes and volunteers features the colors of the flag of Kyrgyzstan. The athletes are in red, and the volunteers are in yellow.
The models were Myrzabek Kochkorov and Anara Ryskulova, members of the alysh team, Aida Kerimbekova, from the toguz korgool team, Tariel Usenov, from the Kyrgyz kurosh team, Tamerlan Bogatyrev, a volunteer, Orozkan Toigonbaev, a referee for er enish, and the Honorary President of the Toguz Korgool Federation in Kyrgyzstan Abdusalim Chylymov.
The Second World Nomad Games will take place from September 3rd through 8th, 2016, in Cholpon-Ata. The Games will include spectacular sporting events and competitions in 23 different kinds of sports, "Nomad's Universe" festival, and other cultural events in Kyrchyn Gorge, at the Hippodrome in Cholpon-Ata, and in the cultural center "Rukh Ordo".
Secretariat of the World Nomad Games