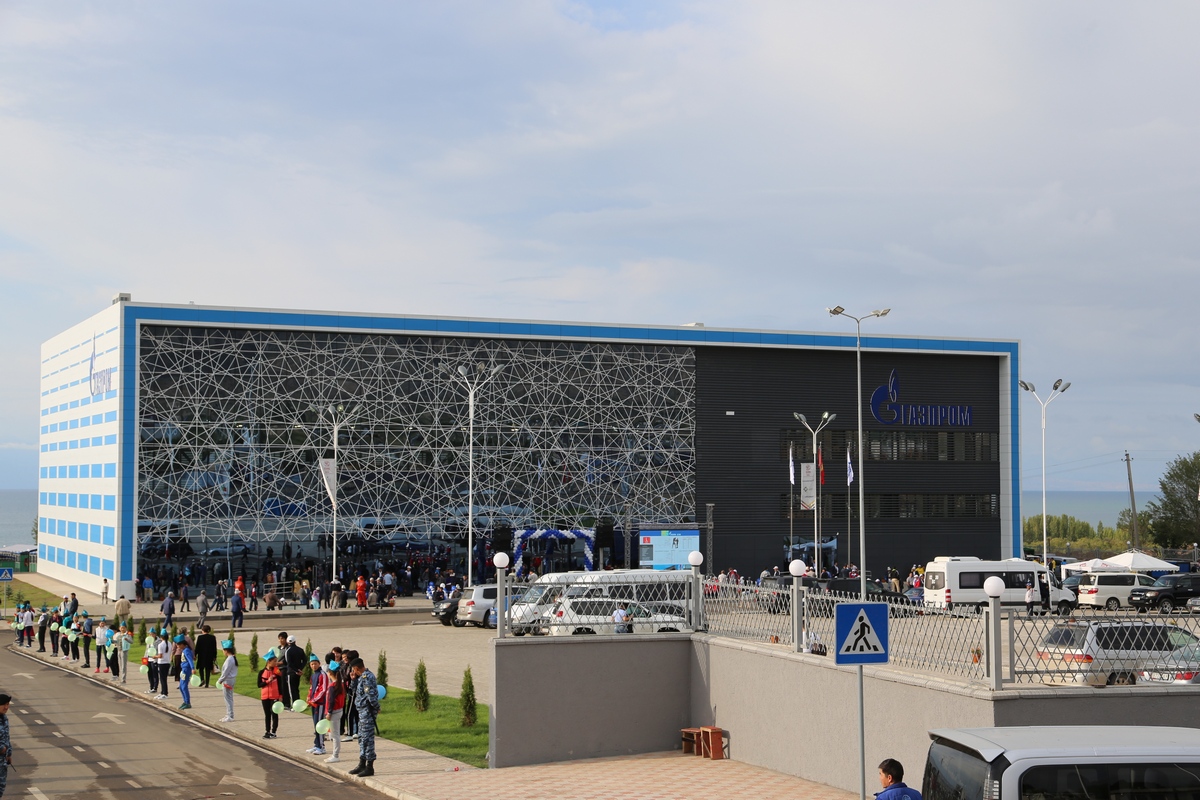 03.09.2016 12:31
The Sports and Recreation Center was opened in Cholpon-Ata
Today, September 3, the opening of Sports and Recreation Center in Cholpon-Ata was held with participation of First Vice-Prime Minister of the Kyrgyz Republic Mukhammedkalyi Abulgaziev, Director General of Gazprom Kyrgyzstan Bolot Abildaev, Director of the State Agency for Youth Affairs, Physical Education and Sports Kanat Amankulov, Hero of Socialist Labor Tashtanbek Akmatov.
Gazprom has built this Sports and Recreation Center under the "Gazprom-children" program.
The area of the three-storey building is more than 5 thousand square meters. A multipurpose hall on the first floor enables to carry out trainings and competitions in mini-football, basketball, volleyball, handball, tennis, boxing, and wrestling. On the second floor, there are a café and a center of nomadic civilization; and on the third floor, there is a conference hall intended for 500 people.
The spectator tribune allows to place more than 650 viewers and the guest parking lot can fit more than 300 cars. The sports complex also provides team locker rooms and changing rooms for visitors, as well as coaching rooms.
For the convenience of visitors, the sports complex is designed to provide auxiliary facilities: reception, dressing room, café fitting 50 people, cash rooms; also room for judges and commentators, amenity rooms for personnel with showers and bathrooms, control room, as well as waiting room, and medical treatment room. Modern climate-control system is installed in the sports center; there are also local treatment facilities corresponding to appropriate technical and environmental standards. Internal and external communication networks, fire alarm systems, and CCTV are provided in the building.
For reference: At the Opening Ceremony of the First World Nomad Games, the President of the Kyrgyz Republic Almazbek Atambaev addressed to the chairman of Gazprom Aleksey Miller the proposal to build sport complexes in Kyrgyzstan where it would be possible to hold competitions of international importance.
By the decision of the Gazprom management, the implementation of the "Gazprom-children" social program was launched in Kyrgyzstan. Earlier, it had been launched on the territory of Russia.
Within this program, it was decided to build 16 sports centers of international standard on the territory of Kyrgyzstan. This strategy aims at supporting health and development of younger generation. The construction of such kind of sports and recreational center will be the first major social project carried out by Gazprom.
Three object formats were developed:
· L format – the largest complex with an area of more 5 000 km2; 3-storey building;
· М format – complex with an area of 2.5 thousand km2; 2-storey building;
· Small format S - 1 thousand km2; 1-storey building.
All complexes are multifunctional, i.e. intended for multiple kinds of sports.
The largest sports centers of L format are built in Cholpon-Ata and Bishkek. Seven complexes of M format with up to 300 seats will be built in oblast centers; and seven small complexes of S format will be bilt in regional centers. In 2015, sport complexes in the cities Kara-Suu (S format) and Talas (M format) started fully functioning.
Secretariat of the World Nomad Games