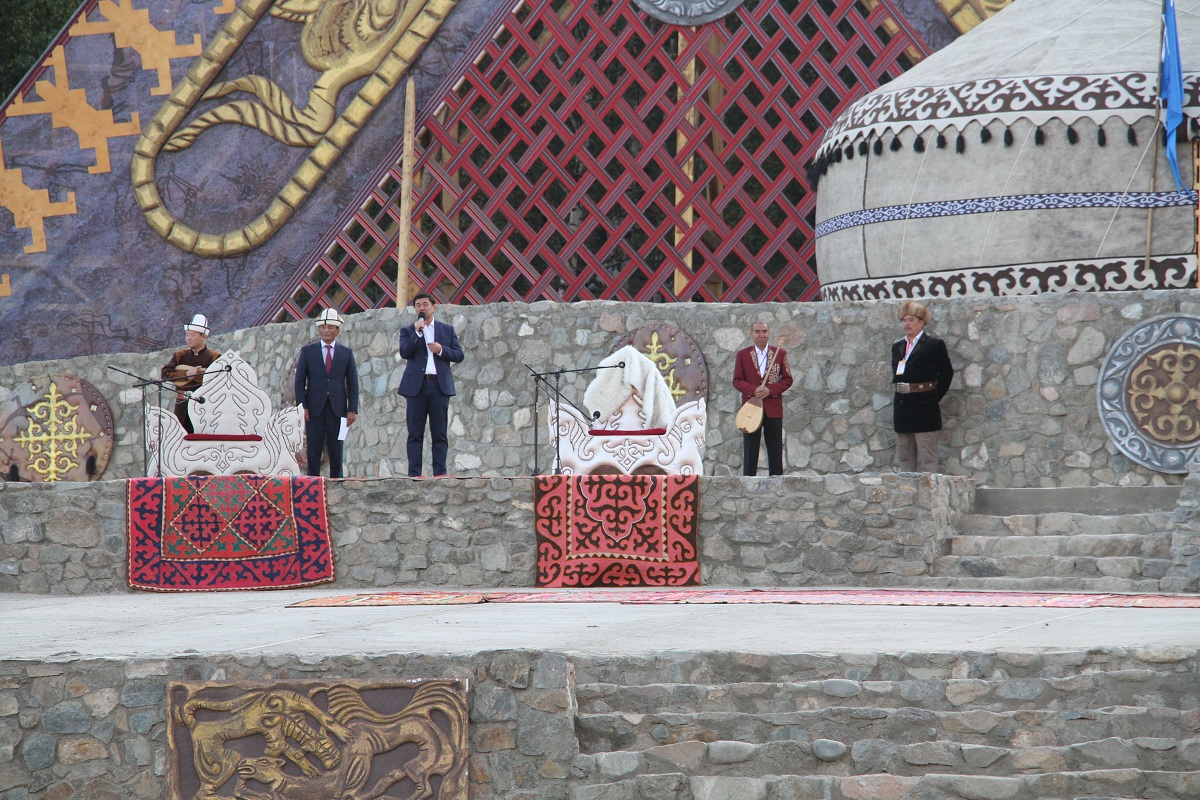 05.09.2018 18:24
The XII International Contest "Aitysh" (Contest of narrators") held in the ethnic village Kyrchyn
On September 4, in the ethnis village of Kyrchyn, within the framework of the III World Nomad Games, the XII international contest of akyns-improvisers (narrators) began.
At the Aitysch contest the Prime Minister-said: "We showed the world around here, in Kirchyn at the III World Nomad Games that we are able to hold such a large event at a high level. We were able to adequately show and tell about our rich history, culture and identity of our people. This was made possible by such creative people as you. Especially I want to mention the akyns-improvisers, because improvisation is a unique vocation, today's aitysh unites akyns- improvisers and Kyrgyz and Kazakh akyns, demonstrates the greatness of national cultures. "
According to the information provided by co-chairman of the Public Foundation "Aitysh" - "In this international competition "Aitysh" 18 akyns-improvisers participate, the total prize is 2 000 000 million soms
Participants of the international Aitysh are:
Kyrgyz Republic:
1. Amantai Kurmanaliev.
2. Azamat Bolgonbaev.
3. Asylbek Maratov.
4. Bayan Akmatov.
5. Idiris Ayitbaev.
6. Izat Aydarkulov.
7. Jyldyzbek Torokanov.
8. Kubat Tukeshov.
Republic of Kazakhstan:
1. Aibek Kaliev
2. Aspanbek Shygataev.
3.Birzhan Baituov.
4. Birbai Orozumbetov.
5. Maksat Akanov.
6. Kozhymukhan Abzalov.
7. Zharkynbek Naushabekov.
8. Nurlan Esenkulov
According to the data received 8 akyns take part from each side. As a result of the first day the first semi-finalists of the akyn-improvisers were determined. In the semi-final from Kyrgyzstan those were: Azamat Bolgonbaev, Asylbek Maratov, Bayan Amatov and Kubat Tukeshov, and from Kazakhstan: Aibek Kaliev, Aspanbek Shugatayev, Birzhan Baitu and Maksat Akanov.
Continuation of the Aitysh is today, September 5 in the ethnic village of Kyrchyn; in the location of Khan Ordo the winners will be determined.