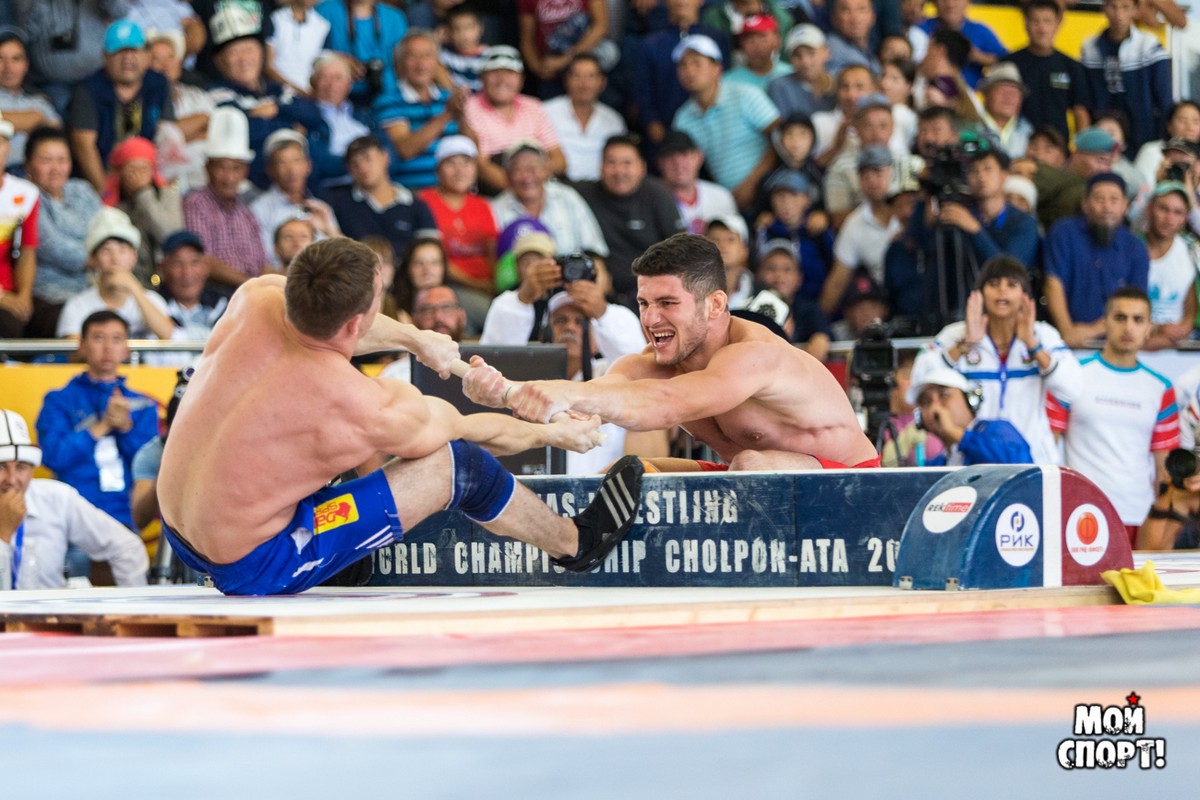 22.08.2018 13:38
The mas-wrestling team is preparing for the III World Nomad Games
The team of the Kyrgyz Republic on mas-wrestling from 10th to 23rd of August 2018 conducting training camp in preparation for the III World Nomad Games in Karakol (Issyk-Kul region), in the following composition:
Elza Abdykadyrova 1993, 55 kg
Jumabek kyzy Eliza 2000, 55 kg
Kymbat Nurjanova 2001, 65 kg
Dilbara Imankanova 1995, 65 kg
Aikanysh Keneshova 2001, 75 kg
Nadejda Gulyashenko 1982, 75 kg
Naziya Mailybashova 1985, 85 kg
Aijan Anarbekova 2001, 85 kg
Dildora Rakhmanova 1983, over 85 kg
Ehtibarkhon Sulaimanova 1971 ,over 85kg
Bekjan Omuarliev 1997, 60 kg
Nursultan Turganbaev 1991, 60 kg
Kudainazar Alimov 1992 , 70 kg
Azamat Asanov 1991 ,70 kg
Askat Djunushev 1989, 80 kg
Temirlan Saparov 2000 ,80 kg
Azat Tashtanbekov 1996, 90 kg
Emil Musuraliev 1990 ,90 kg
Ataibek uulu Keldibek 1993,105 kg
Umar Turdiev 1994 ,105 kg
Ermek Karybekov 1990 ,125 kg
Bektur Mavlyanov 1995 ,125 kg
Rustam Djalilov 1973 ,over 125 kg
Joldosh Sulaimanov 1971, over 125 kg
Marat Ramatov – coach
Ermek Kurmanaliev – head coach.
From the budget of the Directorate for national sports to conduct training camps of the national team of the Kyrgyz Republic on the Mas-wrestling provided 566 thousand soms.
Mas-wrestling (tug of the stick) is a national sport of the Yakut people.
Traditional folk game of tug-of-objects (sticks, whips, leather, boards, spears, arcan) existed in many peoples of the world, for example, the yakut people-Mas tardyhy, the kyrgyz-tayak tartysh, the turkish people-agach guresh, in the english version – stick pull, etc.
In mas-wrestling rivals sit opposite each other, resting his feet on the board, put on the edge, and take up the stick with both hands. To win, the athlete needs to pull the stick out of the hands of the opponent or drag it to his side along with the stick. The duel lasts to two victories of one of wrestlers.
The team consists of 14 people: 12 athletes (7 men and 5 women), 2 coaches.
The competition admitted athletes 18 years and older. Competitions are held among men and women. Weight category:
Men: 60 kg, 70 kg, 80 kg, 90 kg, 105 kg, 125 kg, over 125 kg;
Women up to 55 kg up to 65 kg, before 75 kg, before 85 kg, over 85 kg.
Competitions are held according to the rules of the international mas-wrestling Federation.