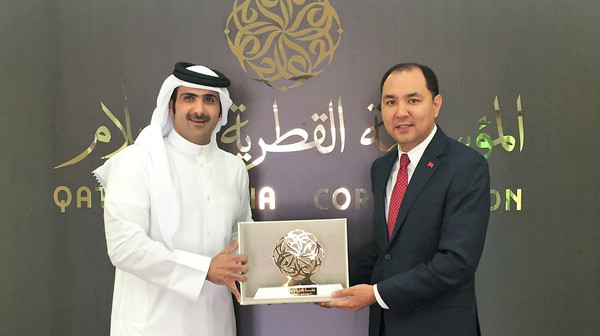 14.05.2018 13:08
Third World Nomad Games plan to show on Qatari television
In Doha, Kyrgyzstan's Ambassador to Qatar, Nuran Niyazaliyev, and Sheikh Abdulrahman bin Hamad Al-Thani, Chief Executive Officer of the Qatari Media Corporation, discussed issues of showing third World Nomad Games on Qatari television. This was reported by the press service of the Foreign Ministry of Kyrgyz Republic.
During the meeting N.Niyazaliev told about the history, mission and goals of the upcoming World Nomad Games and handed over to the head of the Qatar Media Corporation a letter from the Deputy Prime Minister of the Kyrgyz Republic with an invitation to this sport and cultural event.
Sheikh Abdulrahman bin Hamad Al-Thani took interest in the presentation of the World Nomad Games and assured his readiness to send a group of correspondents of Qatar State Television for filming and subsequent display of the Games to Qatari spectators.
He also supported the proposal to broadcast special telecasts about Kyrgyzstan next year on Qatari television.
World Noma Games-2018 will be held in September on the shore of Lake Issyk-Kul.
More: culture.akipress.org/news:1448228?f=cp