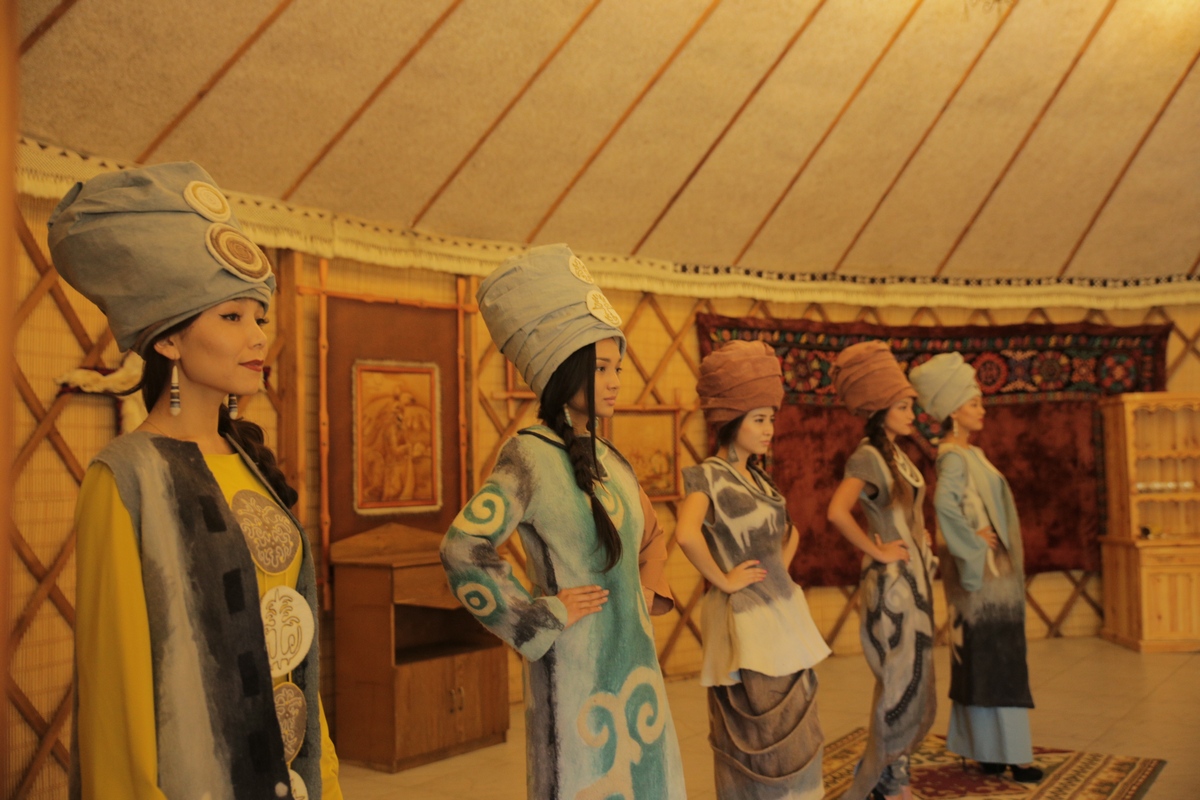 16.08.2016 11:47
Winners Decided in Ethno-Contests in Fashion and Music as Part of the World Nomad Games
Photos from ethno music and ethno fashion competition
Winners have been chosen from the national contest in ethno-fashion, music and songs, held in the ethno-complex "Supara" in Bishkek from August 12th through 14th as part of the Second World Nomad Games.
Competitors presented their efforts and works in the areas of ethno-fashion and ethno-hits to a professional jury.
First place in the ethno-hit category was awarded to Janar Turatova and Ak suunun elechek aiymdary with their respective songs "Kyrgyz rukhu" and "Aiyl kechi". Second place went to Kylych Ediks with the piece "Kok boru" and to Ayana Kasymova with "Amanat", and third place went to Ak bakai aiymdary for their piece "Duino" and Bakyt Mamaev with "Manas ayan".
In the ethno-style competition, first place went to Janyl Abdyklaeva with the collection "Dastan", second place went to Alina Baktybekova for "Stary gorod", and third place went to Nurzada Nurmatova for her collection "Kyrk Choro".
For the "Avant-garde" part of the competition, Janara Kalys Kyzy won first place for the collection "Tash Rabat", Aigerim Anarbekova won second with "Nasyikat", and third was won by Cholponai Almaz Kyzy with the collection "Luchi colntsa".
The prize fund for the national contest consisted of a total of two hundred thousand soms, of which 100 thousand went to the ethno-fashion competition and 100 thousand went to the ethno-hit competition.
The winners of the competitions will participate in the "Nomad Fashion Fest 2016", which will take place from September 5-7, 2016, at Lake Issyk-Kul, as part of the World Nomad Games.
The goal of these competitions is to expose and support talented performers and groups of different styles of music and to increase respect for national traditions of different cultures, as well as to raise the level of mastery and performance culture of young musicians and to promote the best forms of folk art.
Additionally, the competitions also hopes to bring attention to gifted designers, to support masters of applied arts, raise the level of creative activity of youth, display creative achievements in the areas of design and modeling of clothing, and to follow ethnic traditions in everyday clothing and other aspects of life of the modern person.
Professional and amateur musicians alike were invited to participate in the competition, performing solo or in groups, on traditional or modern instruments, in different genres of ethno-music.
Young designers, ateliers, and amateurs also showed their clothing and accessories during the competition.
The World Nomad Games will take place at Lake Issyk-Kul in the Kyrgyz Republic from September 3rd through 8th, 2016.
Secretariat of the World Nomad Games