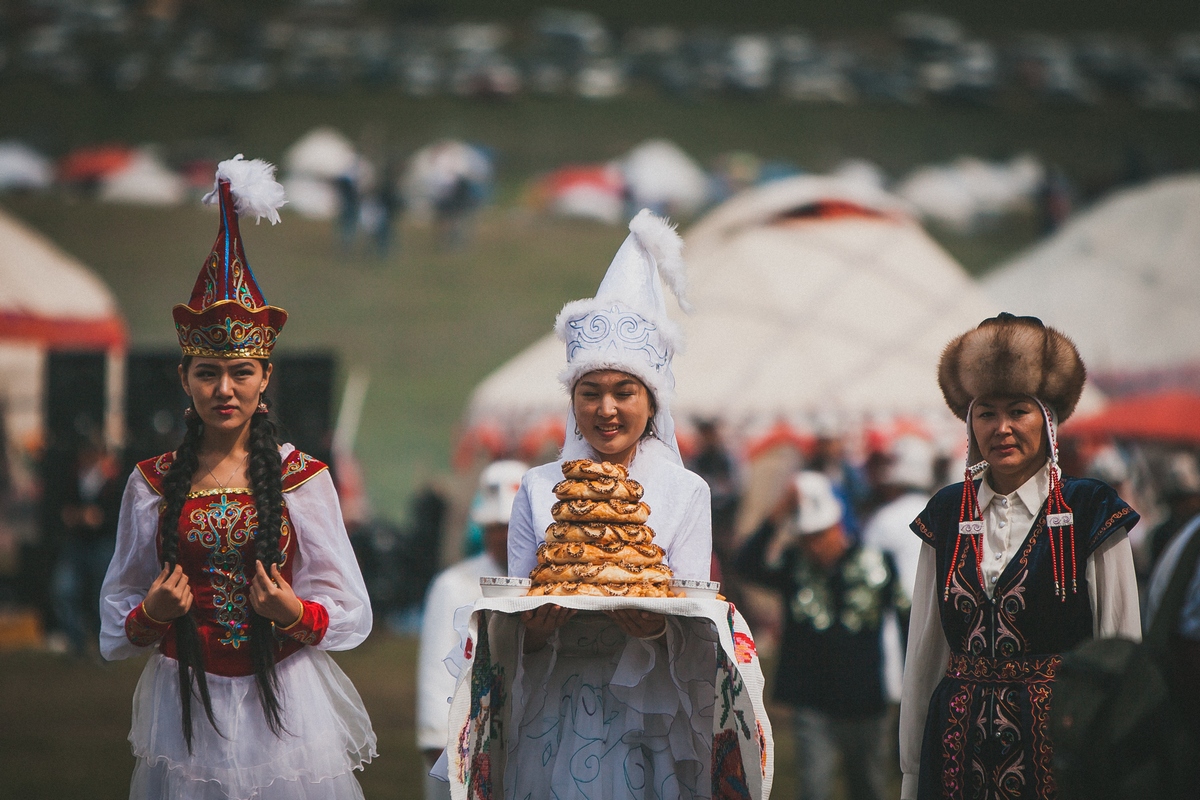 07.09.2016 18:35
Winners of "Nomad's Universe" Festival Announced
Today, September 7, 2016, the official closing ceremony of the "Kyrgyz Village" yurt village, which consisted of more than 600 yurts, and the "Nomad's Universe" folklore festival, part of the World Nomad Games, took place in Kyrchyn Gorge.
The Vice Premier Minister of the Kyrgyz Republic Gulmira Kudaiberdieva took part in the ceremony, along with the Minister of Culture, Information and Tourism Tygolbai Kazakov, representatives of foreign delegations, local and foreign media, and guests.
Competition winners were announced at the end of the end of the ceremony, which celebrated participants that came from the seven regions of Kyrgyzstan, plus the two largest cities of Bishkek and Osh.
Competitions were held in nine areas as part of the "Nomad's Universe" folklore festival.
As a result of the work of the competitions committee, winners from the regions and cities of the Kyrgyz Republic were announced, along with distribution of prizes and certificates.
Competition in Traditional Clothing:
Grand Prize: Issyk-Kul Region, 90,000 KGS
First Place: Osh city, 65,000 KGS
Second Place: Naryn Region, 35,000 KGS
Third Place: Chuy Region, 25,000 KGS
Competition in Traditional Cuisine:
Grand Prize: Osh city, 75,000 KGS
First Place: Issyk-Kul Region, 55,000 KGS
Second Place: Chuy Region, 30,000 KGS
Third Place: Jalal-Abad Region, 20,000 KGS
Competition of Historical Exhibits:
Grand Prize: Bishkek city, 75,000 KGS
First Place: Batken Region, 55,000 KGS
Second Place: Issyk-Kul Region, 30,000 KGS
Third Place: Osh Region, 20,000 KGS
Competition in National Traditions and Customs:
Grand Prize: Osh Region, 130,000 KGS
First Place: Bishkek city, 100,000 KGS
Second Place: Talas Region, 70,000 KGS
Third Place: Batken Region, 60,000 KGS
Competition of Historical Persons:
Grand Prize: Jalal-Abad Region, 110,000 KGS
First Place: Chuy Region, 70,000 KGS
Second Place: Issyk-Kul Region, 50,000 KGS
Third Place: Osh City, 30,000 KGS
Competition in Festival Programs:
Grand Prize: Talas Region, 90,000 KGS
First Place: Naryn Region 70,000 KGS
Second Place: Osh city, 50,000 KGS
Third Place: Jalal-Abad Region 30,000 KGS
Traditional Kyrgyz Handicrafts:
Grand Prize: Batken Region, 90,000 KGS
First Place: Osh City, 65,000 KGS
Second Place: Chuy Region, 35,000 KGS
Third Place: Naryn Region, 25,000 KGS
Secretariat of the World Nomad Games