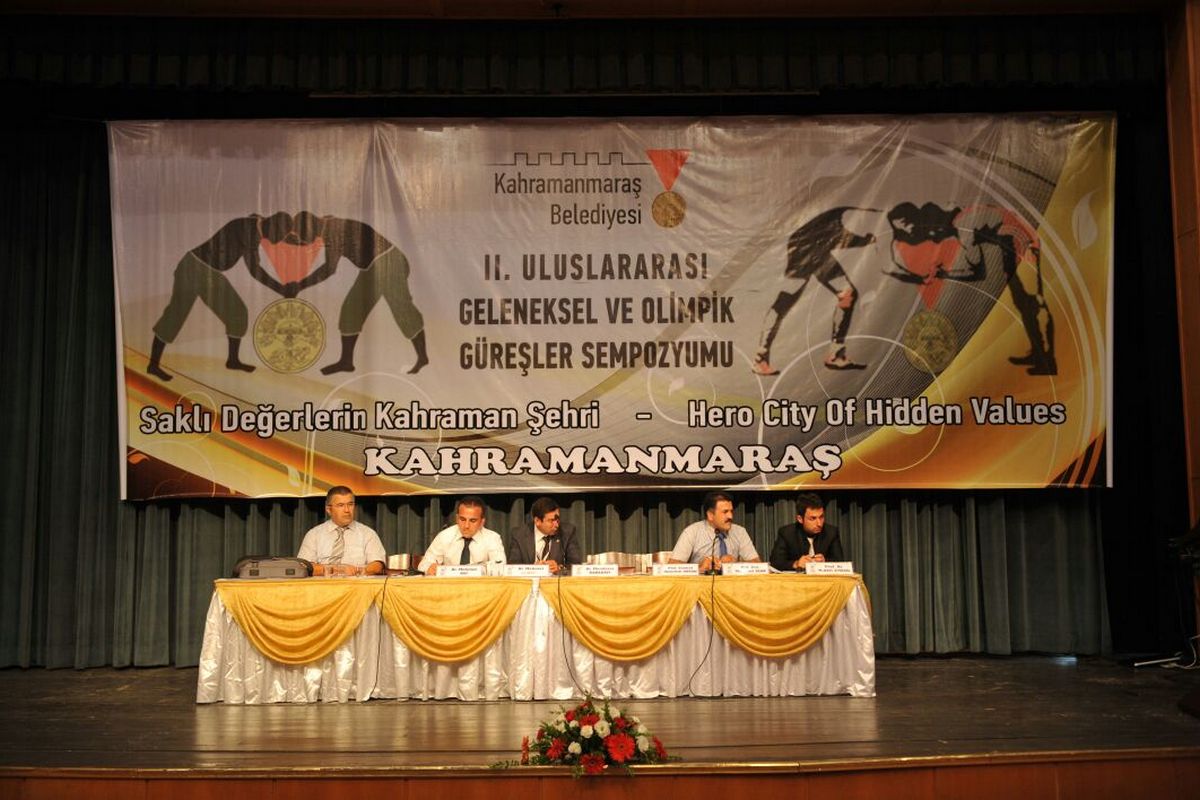 08.05.2016 12:00
World Nomad Games 2016 were presented at the Scientific Symposium in Turkey

III International Symposium on "Traditional Turkish wrestling styles and national games" was held in Kahramanmarash (Turkey) from 6 to 8 May, 2016.
The symposium was organized by the Ministry of Culture of the Republic of Turkey with participation of Kahramanmarash Province, City Administration of Kahramanmarash, the University of Kahramanmarash and Traditional wrestling Federation of Kahramanmarash. It was attended by scientists, organizers and practitioners, who presented 45 scientific reports in the field of traditional sports from Turkey, Kyrgyzstan, Russia (Republic of Crimea, Chechnya, Dagestan), Moldova, Georgia and Azerbaijan.
The World Ethnosport Confederation (WEC) and the Secretariat of the "World Nomad Games 2016" was presented by K. Mambetaliyev, Ph.D., Professor, Honored worker of physical culture and sports of the Kyrgyz Republic. At the Plenary Session of the Symposium, Professor K. Mambetaliyev presented World Nomad Games 2016, which was accompanied by the information about the mission of both WEC and WNG. There were also presented scientific reports, prepared in collaboration with A. Akibaev on the theme "International format of ethno sports movement: the Great Challenge of Globalization" and "Festival of Traditional wrestling styles of the World Nomad Games as a factor of development of ethno sports movement".
The Symposium was attended by representatives of the Turkish traditional sports Federation under the leadership of one of the heads of federation, Mr. Gunay Ghench, the Traditional wrestling Federation of Karaman Province, Mehmet Shahin, representatives of Russian wrestling Federation - Republic of Crimea (Yaraev Seydemet), Republic of Dagestan, the Republic of Chechnya; Georgia, Azerbaijan. With them, as well as with representative of the Moldovan University, Professor Olga Radova was held individual meetings for WNG presentations and participation at the Games.
Turkish representatives expressed their intention to participate at the WNG 2016 by representative delegation comprising 300-400 people.
Meeting with the governor and the mayor of Kahramanmarash, Mustafa Poyraz and the rector of the University of Kahramanmarash, Professor Durmush Devechi helped to the promotion of WEC and WNG, during which was presented the brief information about WEC and WNG and were handed promotional materials and souvenirs.
The presentation of WNG and WEC was continued in the sports festival, where Kyrgyz athletes representing the Kyrgyz State Academy of Physical Culture and Sports, Wrestling Federation "Alysh" and "Er enish" club made a performance. Our athletes in addition to participation in the competition performed demonstration bouts of "Alysh", wrestling on horseback "Er Enish" and riding skills that were accompanied by folk musical composition "Kara Jorgo" and others.