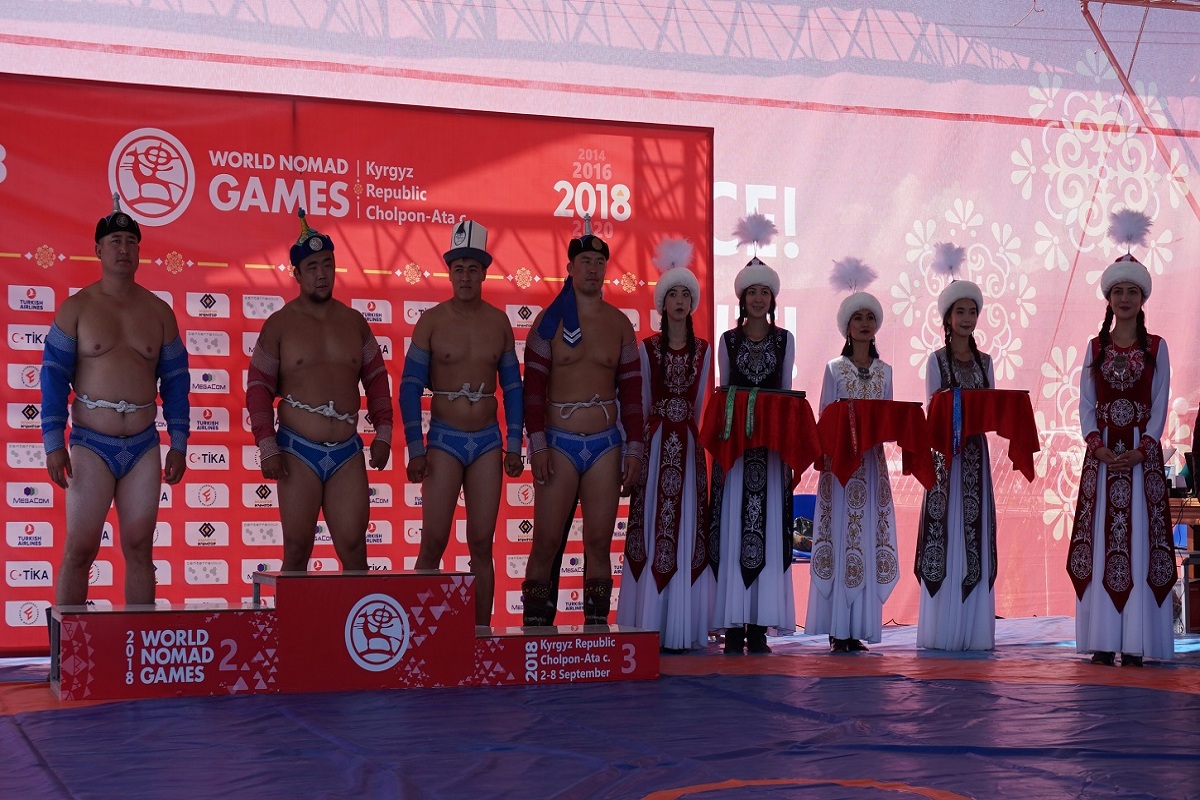 05.09.2018 16:14
Wrestling match in Mongol bokh has ended
Today, September 5, in the sports and health complex of Bactuu-Dolonotu village for the first time the traditional Mongolian fight Mongol Bokh took place in the competitions of the III World Nomad Games. 14 sportsmen from 14 countries took part in this kind of single combat. In the previous World Nomad Games this kind of single combat was not included.
Winners of the tournament:
1-place - Dorj Anar - Mongolia;
2-place - Aydin Atansukh - China;
3 - place - Kuruchbek uulu Ularbek - Kyrgyzstan;
3-place - Mongush Aydin - Russia (Krasnoyarsk).
The prize fund is 140 thousand soms.
The owner of the gold medal will receive 70 thousand soms. Silver medalist - 35 thousand soms and bronze medalists 17500 thousand soms each.
Mongol Bokh is a traditional Mongolian wrestling.
Two fighters take part in the fight. The winner is the one who is to push an opponent out of the arena or force him to touch the ground with any part of the body except the foot. In the fight, wrestlers use techniques such as grasping and releasing them, jerking and pushing in order to bring the opponent out of balance, throwing, including the ones using legs, as well as the footboard. In the fight, hand grips are allowed by the feet. To win, it is necessary to force the rival to first touch the ground with any part of the body from the knee and up. The lack of continuation of the bout on the ground is explained by the fact that in ancient times the troops consisted entirely of horsemen, and a soldier who fell from the horse quickly died. The most prestigious victory is that when a winner throws an opponent on his back and knees him to the ground.
The team consists of 2 people: 1 athlete, 1 coach.
Athletes from 18 years of age and older are admitted to the competition. Competitions are held among men in the absolute weight category. Competitions are held according to the rules of the Mongolian National Wrestling Federation.
The winner in the absolute weight category is entitled to take part in the competitions "The Great Struggle of Nomads".