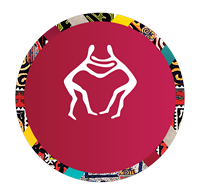 Goresh – Traditional Turkmen wrestling.
Goresh is an ancient form of wrestling involving belts. Ancient sources tell us about men and women practicing this type of wrestling. Famous wrestlers taught the most talented students how to become palvans – masters of wrestling. Then these very palvans eventually passed on their experience to their students. Having been carefully passed on through the generations this way, goresh is still practiced in its original ways today.
Wrestlers earn points by forcing their opponent to touch the ground with any part of their body except their feet.
Teams are made up of four people: two athletes, one coach, and one judge. Competitions are held with open weight categories; anyone over 80 kg can compete, as long as they are over 18 years old.
Download detailed rules of Goresh