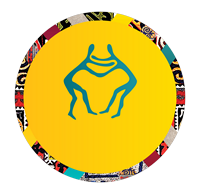 Gyulesh – Traditional Azerbaijani wrestling.
Gyulesh matches start with a unique ritual, known as meydan gazmek, which serves as a warm-up and greeting. The athletes complete swing their arms up and down as they walk along the edge of the wrestling arena, in time with the sound of drums and zurna. Then wrestlers touch shoulders three times as a sign of respect and polite greeting. The athletes are dressed in loose patterned trousers, tied off with a belt.
The goal of gyulesh is to throw one's opponent on their shoulders, and wrestlers complete this with a series of holds, grips, and throws. Earlier, gyulesh wrestlers, known as pekhlevans, used to wear mirrors on their knees to show that they never touched the ground.
Bouts are full of interesting throws and holds, which makes it interesting to watch, and such competitions are regularly held across Azerbaijan. This event has become a large part of Azerbaijani culture, combining sports and music.
Teams have eight members, which include six athletes, one coach and one referee. Men over 18 compete in the following weight categories: 50 kg, 60 kg, 70 kg, 80 kg, 90 kg, and 90+ kg.
Download detailed rules of Gyulesh