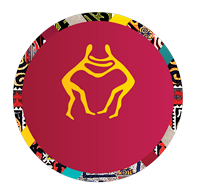 Kyrgyz Kurosh – Traditional Kyrgyz wrestling.
Historically, groups have taken special care in the preparation of heroes who would represent the nation during military campaigns and celebrations. Quite often, the central place was given to wrestlers competing in different kinds of traditional events.
Legends, parables, and historical sources show us plenty about outstanding wrestlers. Wrestling itself has become part of traditional culture, and still has influence today. Kyrgyz kurosh is an ancient type of wrestling that is still popular today.
Athletes wear loose white trousers, leaving the upper body bare. They stand facing each other on a mat and hold each other's belts with both hands, but may release one hand during the match. The person who is able to throw their opponent on their shoulder wins.
Teams are made of 8 people: 7 athletes and one coach. Athletes older than 18 can take part. Competitions are held among men in the following weight categories: 55kg, 60 kg, 66 kg, 74 kg, 84 kg, 96 kg and 96+ kg.
Download detailed rules of Kyrgyz kurosh