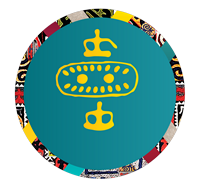 Toguz Korgool – Traditional Kyrgyz intellectual game.
Toguz Korgool belongs to the mancala family, whose name derives from the word "move" or "movement".
Each player has nine wells, and each well has nine korgols, which gives the game its name – "toguz" means nine. Nine is a sacred number for nomadic Turkic people, including the Kyrgyz. The goal of the game is to collect as many korgols as possible – the word "korgol" translates as sheep droppings. The game was originally meant to develop strategic military thinking for warriors and soldiers, especially in times of peace. The game represents the conquest of wealth, estates, and the enemy's troops. Each korgol represents a warrior.
The main difference between toguz korgool and other mancala games is that in toguz korgol, each player leaves one stone in the starting well during each play. This is a reflection of the idea of saving the paternal center of social life of nomadic Turkic people.
Each team consists of five people: two men, two women, and one coach. Competitions are held on an individual and group basis.
Download detailed rules of Toguz korgool